Brown shoots magical 59 at Carrus Open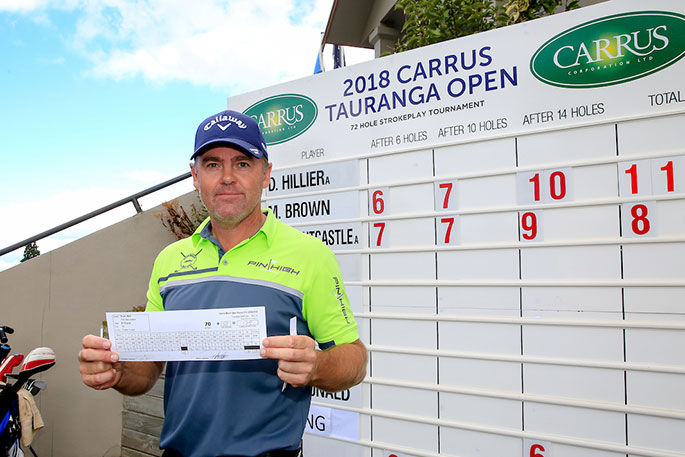 Mark Brown has shot the magical number of 59 (-11 par) to fly into the lead at the Carrus Open on the Jennian Homes Charles Tour this morning.
The defending champion achieves this feat for the second time at this course and is believed to be only the second player in professional golf to do this alongside the world-famous Jim Furyk.
After a slow opening round of even-par, he is now on track to claim his fourth win in-a-row here at the Tauranga Golf Club as he handed in one of the more memorable cards seen on the Jennian Homes Charles Tour.
"It feels amazing, this place is pretty special to me so it's special to do it in front of all the members and supporters here," says Brown.
"I thought about it [shooting 59] when there was about five holes to go and was thinking about going even lower than 59 at one stage, but I didn't play two or three holes well towards the end.
After 16 superb holes of golf, the highlight of his round and maybe even his career came on the par three ninth where he holed a flop shot from a hugely difficult spot.
"It was a terrible tee shot, I tried to hit a little six-iron in there and it was a really poor shot under that pressure, then got to the chip and it wasn't the easiest shot either. I said to Micaela [caddie and wife] that it was either going to be a four or a two and just opened the face and let go.
"It was probably one of the best shots I've hit in my career."
Brown shot the same score four years ago, to join Richard Lee who has also recorded the magical number here back in 2010.
He currently holds a narrow one-shot lead (2pm) over Daniel Hillier who is still on course and looking dangerous to steal the lead back before the end of day two where an updated release will follow.
More on SunLive...