Learning with apps: help or hindrance?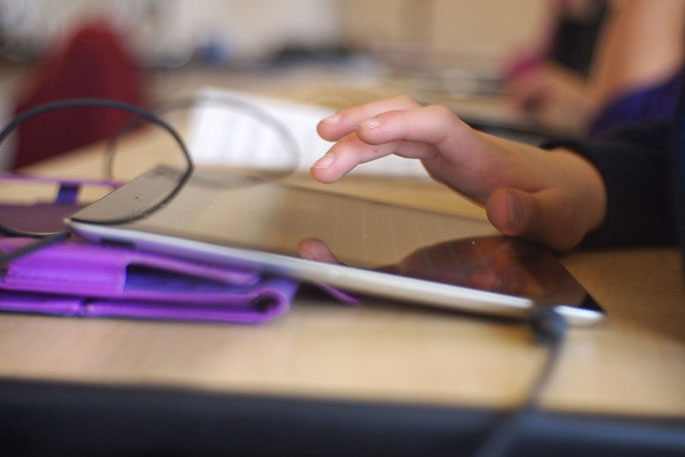 Research involving the use of apps to help with Tauranga students' learning will be presented in an international forum.
University of Waikato FEDU Associate Professor Dr Nigel Calder will take his research and present his findings at UCL's London Knowledge Lab and UC Berkeley in September.
At the heart of Dr Calder's research have been several collaborative studies undertaken over a number of years.
One study saw him working with Tauranga schools to investigate the efficacy of mobile apps in the mathematics classroom.
With a huge range of apps available, each claiming to engage minds and boost understanding, Nigel concluded that there is no substitute for effective pedagogy.
"Our findings show that it's not only the quality of the app that matters, but more importantly the way in which it's harnessed in the learning environment," he says.
"Teachers are often too busy to really evaluate this, and so our research with teacher co-researchers has helped identify ways to make the most of the apps in order to facilitate creative problem-solving, logical reasoning and collaboration in the classroom."
While New Zealand has followed the UK in making coding compulsory in primary schools, Nigel says that he and his colleagues are now leading the way with aspects of this research, looking at best practice in the use of mobile technology.
He says this was the first research of its kind solely based in Tauranga, and he is thrilled with the insights it provided and how those insights empowered the teachers.
"These are highly skilled teachers and it was exciting to see them make better use of the apps to facilitate mathematical thinking amongst their students."
Another Tauranga-based research project saw Nigel investigate a class of Year 6 students use the media-rich coding app Scratch, to build a digital mathematics game suitable for facilitating the number understanding of their Year 1 'buddy' class.
This sort of student-centred learning outcome has been a familiar feature of Dr Calder's research.
"We are uncovering what we call 'sociomaterial assemblages', which is the mixture of technical and social factors that make learning through apps potentially so powerful," he says.
"When used effectively, digital technology can facilitate outstanding collaborative work between students that draws on a broad learning community, often from throughout the world."
Nigel's project on motivating 16-18 year-old reluctant learners with numeracy and literacy found that the use of apps led directly to them re-engaging with the learning process, and contributed to the students making significant gains in their learning.
Nigel's UCL and Berkeley invitations are not the first time he has had the opportunity to share his research on the international stage.
Last year, he was invited by TeachNZ to present in India, including at the prestigious Indian Institutes of Statistics and Technology.
In a collaboration with academic staff from Exeter, Tasmania and Qatar Universities, he is currently working on an enquiry learning project for both teachers and students.
Meanwhile, he has also been invited to be part of a proposed EU research project involving Danish, German and French academics.
However, it's the UCL and Berkeley invitations that are foremost in Dr Calder's mind as he counts down to his August departure.
"It's brilliant that such prestigious institutions have acknowledged our Tauranga-based research, and the great work that local teachers are doing in this area.
"It's a fantastic opportunity to showcase the excellent research being undertaken by the University of Waikato."
More on SunLive...