A polar dip tonight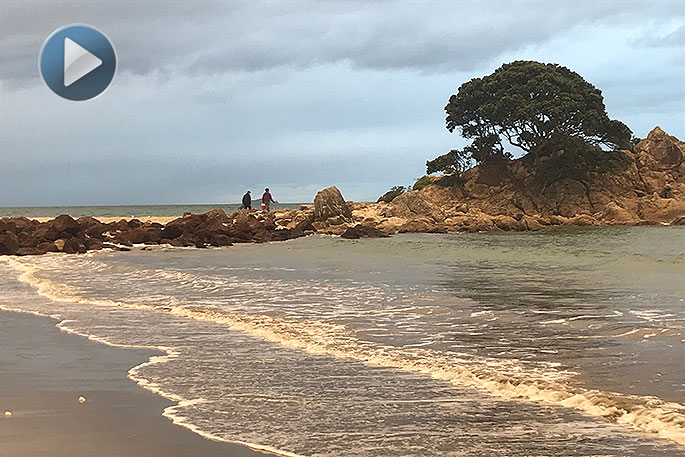 Click the image above to watch the video
The weather forecast today is for a few morning showers, then sunny spells. Gusty westerlies easing towards the evening.
It's a one-clothing layer day today with a high of 20 and an overnight low of 9 degrees. Humidity is 84 per cent.
High tide is at 8.20am and low tide at 2.30pm. There's a sea swell of .2m, with a sea temperature of 20 degrees. Sunset tonight is at 5.43pm.
If you're going fishing the next best fish bite time is between 4.30 and 7.30pm.
In NZ history, 177 years ago on this day in 1840 Samuel Revans printed the first newspaper in New Zealand.
The first newspapers published in New Zealand rolled off Samuel Revans' printing press a month after his arrival at Port Nicholson in Wellington.
In 1847 the Gilfillan killings happened near Whanganui. A raid on the Gilfillan farm at Matarawa, just east of Whanganui, left four members of the family dead. The artist John Gilfillan and one of his daughters were severely wounded.
In world history on this day in 1521 Martin Luther confronted the emperor Charles V, refusing to retract the views which led to his excommunication.
In 1775 American revolutionaries Paul Revere and William Dawes rode though the towns of Massachusetts warning that "the British are coming."
In 1791 National Guardsmen prevented Louis XVI and his family from leaving Paris.
In 1838 the Wilkes' expedition to the South Pole set sail. In 1853 the first train in Asia began running from Bombay to Tanna.
In 1906 a massive earthquake hit San Francisco, measuring 8.25 on the Richter scale. In 1923 Yankee Stadium opened with Babe Ruth hitting a three-run homer as the Yankees beat the Red Sox 4-1.
In 1950 the first transatlantic jet passenger trip was completed. In 1980 Zimbabwe's (Rhodesia) formal independence from Britain was proclaimed.
Today is the birthday of Clifton Keith Hillegass. Born in 1918 he was the founder of the study guides known as Cliff's Notes and once despite providing study notes for students he said "A thorough appreciation of literature allows no shortcuts."
To get involved in some of the many activities happening around the Bay, please check out our What's on page.
Have a great day!
More on SunLive...