What's On? Running, Tattoos, & Ducks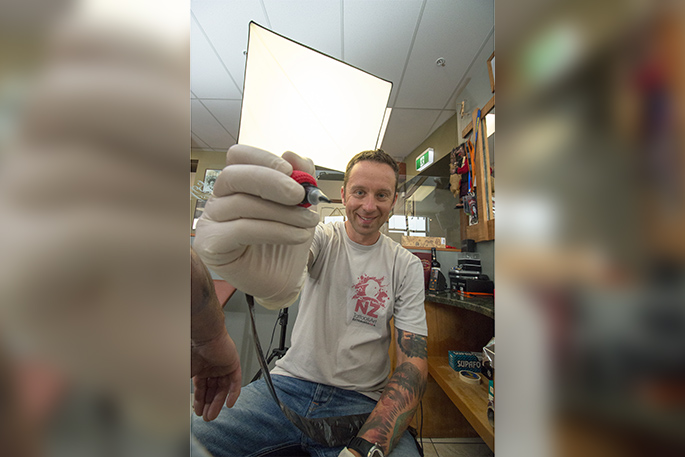 Well, it is Sunday again, folks. Who knew there were so many Sundays in a year?
There's probably 52 or so, give or take one.
Fortunately in Tauranga, there's usually something to do on a Sunday, even if the temperature has dropped suddenly over the past week. Today's forecast is cloudy with a few showers and a high of 19, so wrap up warm if you're heading outside.
And some of you will be, as the Pay What You Want Tauranga Half Marathon is on today. Established in 2005, the Tauranga Half Marathon has relaunched in 2018 as New Zealand's first Pay What You Want running event, and includes the titular option, plus 15km, 10km, 5km and Matua Mile routes.
The event runs from 7am-12pm, and includes the following road closures:
Full road closures from 6am to 9.30am
Hamilton Street: from Willow Street to The Strand
The Strand: from Harington Street to Devonport Road
Devonport Road: from The Strand to Elizabeth Street
Lane closures from 6am to 10am
Devonport Road: from Elizabeth Street to Ninth Avenue (outbound lane – away from Tauranga CBD)
Willow Street: from Hamilton Street to Brown Street (inbound lane – towards Tauranga CBD)
Brown Street: from Willow Street to Chapel Street (inbound lane – towards Tauranga CBD)
Chapel Street: from Marsh Street to Brown Street (inbound lane – towards Tauranga CBD, inbound lane to Cameron Road will remain open)
Elizabeth Street: from Grey Street to Devonport Road (inbound lane – towards Tauranga CBD)
Intermittent lane closures for 10-15 minute intervals from 6.30am to 10am
Waratah Street: from Tilby Drive to Ranui Street (Eastbound lane)
Ranui Street: from Waratah Street to Levers Road (Southbound lane)
Woods Avenue: from Waratah Street to Levers Road (Southbound lane)
Tattoos, Ducks, & a Concert
Meanwhile, the Tattoo & Art Extravaganza is on for its final day at ASB Baypark Arena. Doors open at 10am at the venue, where almost 200 artists will be showing off what they can do. Tickets are $25 for a day pass, while children can get in for free.
From 10.30am, the Great Tauranga Duck Race will also be taking place down on the waterfront at The Strand.
Organised by Tauranga Te Papa Rotary Club and supported by major sponsor Ray White, the race involves inflatable ducks vying to cross the finish line first, with prizes on offer for winning and best dressed duck. Funds raised will benefit Mt Maunganui, Omanu, and Papamoa Surf Lifesaving Clubs, and Rotary charitable activities.
And finally, Bay of Plenty Symphonia's 'Lost and Found' concert is on at Baycourt from 3pm. Two lost manuscripts by composer Gustav Holst will be brought to life by the orchestra. Tickets are only $10 to this unique event, with door sales available if the concert is not sold out prior.
For more of What's On, check out today's other listings below:
WHAT'S ON – Sunday, April 15:
Accordion-Keyboard
Oldtime Music makers at Welcome Bay Hall today 1-4pm. All welcome. $3 entry & ladies a plate please. Ph Ces 544 3849
Art & Artisan Fair
Last Sunday every month Black Sheep Bar & Grill Cnr SH2 & Plummers Pt Road Whakamarama 11am-3pm. Original art & artisan product contact aaafair17@gmail.com
Bible Seminar
1:45pm Greerton Senior Citizen's Hall, Maitland St, Greerton. Title: "The Origin of Jesus" Interactive, Q&A. All welcome. Vic 543 0504
CD Social group
A discreet, safe environment for CDs to dress & socialise starting soon. Wives & partners welcome. Interested? Text only Dan 022 109 4188
Christianity Explored
Join us to explore, who is Jesus? Why did he come? See you at 6pm Mount Bible Chapel, Monowai St, Mount Maunganui. Len 021 230 2210
Corkers Toastmasters
Promoting Communication & Leadership meets 3rd Sunday of month commencing 2pm Zone Cafe - upstairs 2/5B Owens Place Mount Maunganui. Inquiries Chrissy 027 296 7939
Historic Village Market
Great market every 1st & 3rd Sunday 8am-12pm at 17th Ave. Fruit & veg, crafts, tools, food, plants, clothes, paintings.
Lost & Found concert
BOP Symphonia with Scholars Pro Musica, English orchestral & choral music. Baycourt, 3pm. Pre-concert talk 2:15pm. Tickets $10 box office or Ticketek.
Maketu Market
Maketu Market is held every 3rd & 5th Sunday of the month at Maketu Village Green. 7am-12pm. Pat 021 447 420 or Fennis 027 428 2862
Messy Church
Looking for something creative, messy, stories, prayer, games, all ages? 4-6pm at 53 Te Okuroa Dr Papamoa Dinner provided Koha appreciated. Julie 0274 205 375 http://www.communityofstaidan.com/
Messy Church Holy Trinity
Cnr 3rd Ave & Fraser Street, 4-6pm, All ages welcome. Crafts & activities, short christian story, community time. Simple meal. No charge. Theme, Discovering peace. Ph 578 7718
Mount Art Annual Exhibition
At "The People's Gallery", Historic Village 17th Ave, Tga. Artworks & cards for sale, artists in residence. Sun-Fri 10-3, Sat 9-2. Ph Gemma 575 4117
Mount Bible Chapel
Join us for Sunday worship & teaching @ 10am. Topic "Jesus' last words to the apostles." Monowai St, Mount Maunganui. Len 021 230 2210
Narcotics Anonymous
Sun 7-8pm, Hanmer Clinic (behind Super Liquor), 1235 Cameron Rd, Greerton. If using drugs is causing you problems, maybe we can help. 0800 NA TODAY
Spiritual Centre Psychic Cafe
Greerton Community Hall - Doors open 6:45pm, start 7pm. $10 one-time fee. Everything else FREE. Psychics, Healers & more. Free refreshments. www.psychiccafe.nz Ph 578 7205
Sunday Sessions Music Group
Gathering of musicians, singers, music lovers of all kinds. With a relaxed, let's have fun feel. Playing music together every Sunday 4:30pm-5:30pm. $15. Ph 0274 751 023
Tauranga Underwater Hockey Club
Meets every Sunday during school term time (except holiday weekends) at Baywave. 5pm for beginning players & 6:15pm for experienced players. More info: emailtuwh@gmail.com
Te Puke Country Music Club
1pm at Te Puke RSA & Citizens Club. All welcome. Ph Gayle 573 8255
More on SunLive...