Te Puke club gets national recognition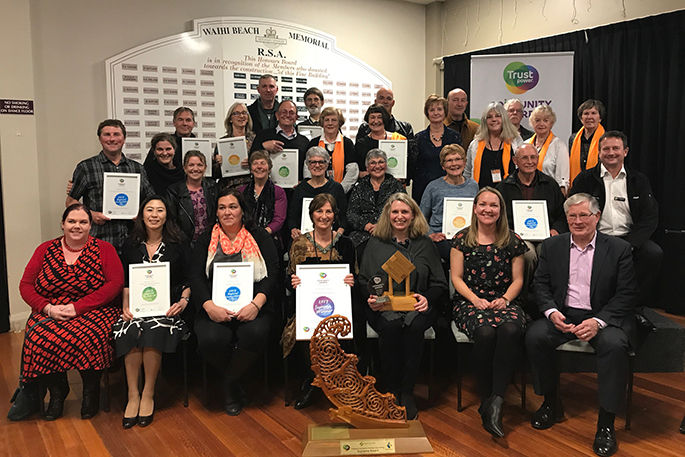 Te Puke Gymsport will join the country's best and brightest voluntary groups and organisations at the Trustpower National Community Awards taking place in the Queenstown Lakes region from April 13-15.
The groupis representing Western Bay of Plenty at the prestigious awards – an honour they won after being named supreme winner at the Trustpower Western Bay of Plenty Community Awards last year.
Joining them will be representatives from 24 other voluntary groups or organisations from around the country who were named Supreme Winner at their respective regional Trustpower Community Awards.
At the Trustpower National Awards, Te Puke Gymsport will give an eight-minute presentation sharing their story, their achievements, and why they deserve the title of the Trustpower National Community Awards Supreme Winner. The group will be judged on their presentation, along with a 1000-word summary.
Some of the guest judges this year include CEO of Volunteering New Zealand, Scott Miller, TVNZ Good Sorts creator and presenter, Hadyn Jones, and previous Supreme Winner, Janice Lee from Koha Kai.
The presentations will take place this Saturday at the Queenstown Memorial Centre. The winner, runner-up and recipient of the Whetū Mātaiata Award (and up-and-coming group) will be announced at an awards dinner that evening at the Kawarau Bungy Centre.
Groups will also have the opportunity to network, share ideas, and take in some of the scenery from around the beautiful Queenstown Lakes District.
Trustpower community and communications advisor Abbie Siely says the group has been helping people find joy through movement since 1954, but it was a recent review of their services and a commitment to professionalism in a voluntary capacity that made the group stand out.
"Te Puke Gymsport is a not-for-profit organisation that employs qualified professional coaches, but is run by volunteers," says Abbie.
"The lead up to last year's awards was a period of particular achievement for this longstanding pillar of the Te Puke community, with its volunteer committee leading the charge towards excellence in all areas.
"They conducted research into the club's membership, and implemented a strategic plan to increase participation, improve customer service, get everyday operations running smoothly and keep special projects on track.
"Volunteers invest a significant 500 hours per month into managing the club and running programmes. Committee members accept real responsibilities in their roles. They are assigned tasks and held to account for their achievement, and the club is forging ahead towards its goals as a result."
The Trustpower National Community Awards supreme winner will take home a custom-made trophy by local Glenorchy artist, Dan Kelly, $4000 in prize money, a framed certificate, and a $1000 consultancy voucher from one of New Zealand's leading training providers for the community sector, Exult.
The runner-up will receive $2500 in prize money, a $500 Exult voucher and a framed certificate. The Whetū Mātaiata Award recipient, and up-and-coming group, receives a framed certificate and a consultancy service package from award sponsor, Exult.
Sarah Elliott and Jane McKay will represent Te Puke Gymsport, together with Mayor Garry Webber and his wife Carole.
Meanwhile, entries are now being taken for the 2018 Trustpower Community Awards. Anyone can enter a group and all voluntary groups and not-for-profit organisations are eligible. Enter online at trustpower.co.nz/communityawards. Entries close May 31.
More on SunLive...