Artist spruces up Chorus cabinet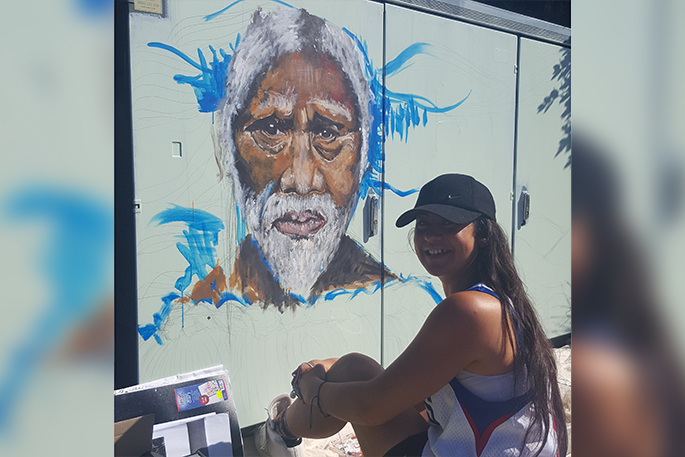 A local artist is turning a bleak-looking Chorus cabinet into a work of art.
Juanita-Louisa Karora (Jlo) started painting the cabinet at Fashion Island in Papamoa on Thursday, after submitting a concept design to the 'Paint your Cabinet Beautiful' campaign.
The competition, run by Keep New Zealand Beautiful and Chorus, called for local artists to submit designs that would make the stark Chorus cabinets dotted around the city into colourful works of art.
The theme of the designs is 'Our Places and Faces', with all artwork submissions needing to relate to this theme – by depicting someone well-known from Tauranga, or a significant (historically or otherwise) place in the city.
Jlo says she chose to focus on the Maori warrior Tamapahore, from the Nga Potiki iwi of Papamoa.
"I was trying to think of a celebrity who has been timeless, but they are normally temporary figures who go in and out of trend. Tamapahore did a lot for his people in bringing them to this area and I wanted to direct attention back to his DNA as being the land we now walk on."
The 22-year-old artist, of mixed Cook Island, Tongan, Maori, and European descent, has lived in the Bay of Plenty since she was seven. In 2016 she completed a degree in Visual Arts, and since then has been slowly building her visual portfolio as a mixed media artist.
"From a very early age I have always loved expressing creativity through art, whether it be through performance, fashion design or visual arts. I have been painting since high school but have taken a break for the last couple of years, so it has been awesome to get back into it."
More on SunLive...