Delays on Southern Pipeline project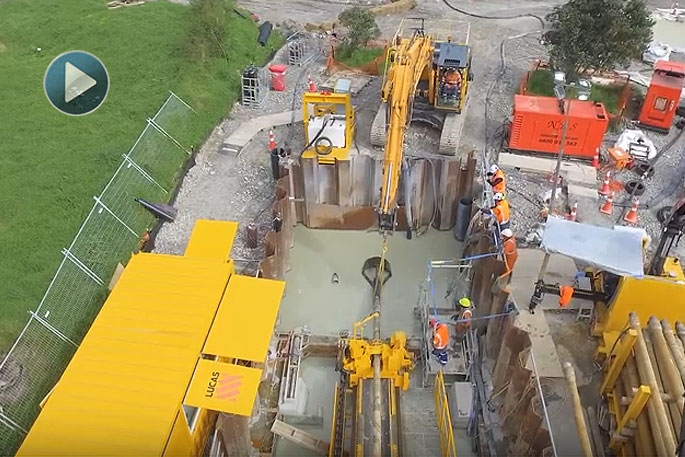 Ongoing challenges of drilling deep under the harbour have pushed out the expected completion date for the Southern Pipeline Harbour Crossing project.
While over two thirds of the under-harbour reaming work has been finished, an issue with a small area of unstable sediment is currently being tackled at the Memorial Park end of the pipeline.
Tauranga City Council project manager for the Southern Pipeline Steve Wiggill says this has been an extremely challenging project.
"We've had to overcome several issues, beginning with an obstruction we encountered under the harbour back in August 2017, which badly damaged our machinery and created a domino effect of complications.
"Then late last year, while drilling near Memorial Park, we came across an area of material that was much softer than expected."
Steve says it's still too soft to drill through so they've been working with a panel of global drilling experts on solutions to stabilise the area.
The methodology the contractor will be using includes injecting firmer drilling mud into the softer material.
"The entire driver for this project is to help protect the environment, and that continues to be our focus as we overcome these construction challenges.
"We've been working closely with iwi representatives, and we've been meeting with residents close to the site to update them on the project.
"It's been a tough project but the team has overcome each issue they've encountered. We're pleased with the dedication they've shown in focusing on solutions."
Once the soft harbour material has been stabilised, work will resume to widen the final section of the harbour crossing.
That work is expected to take up to four weeks.
Steel pipes will then be pulled through the harbour crossing, followed by the plastic wastewater pipes.
The final phase of this project will involve connecting the wastewater pipe to the previously constructed pipeline at Matapihi Road and to the pump station at Memorial Park.
All of the remaining work on the project, including the current stabilisation work, is expected to take around seven months.
About the Southern Pipeline
The $21 million harbour crossing is the final stage of the $99 million Southern Pipeline project, one of several key infrastructure projects being built to cater for the rapid growth being seen in Tauranga.
The pipeline will relieve pressure from the Chapel Street Wastewater Treatment Plant by redirecting much of the city's wastewater to the treatment plant at Te Maunga, which has extra capacity.
It will connect the wastewater network between Memorial Park and Matapihi through a pipeline deep beneath the harbour bed, at a depth of up to 35m.
Southern Pipeline construction started in started in 2009.
The harbour crossing construction began in February 2017.
More on SunLive...