Carpark sacrifice for cycle loop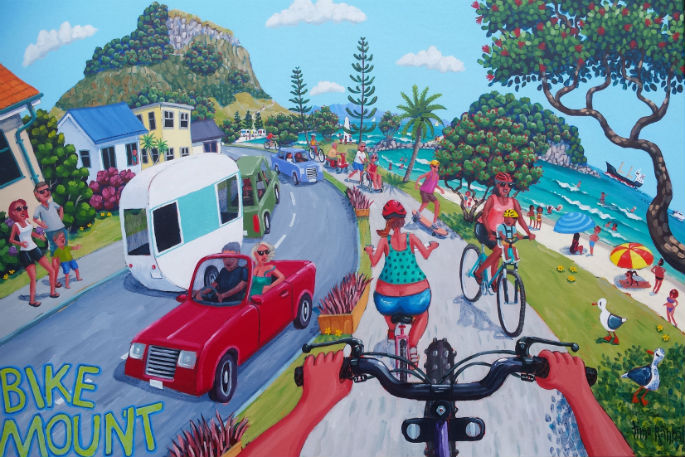 A trial cycle loop around Mount Maunganui North has been given the go ahead by city councillors, subject to approval by residents.
Councillors at the Transport Committee meeting on Monday recommended public feedback is sought on the options:
A two way physically separated cruise way on The Mall and associated one way vehicle traffic flow with parallel parking.
The committee is urging council adopt the plan produced last month, which sacrifices a single parallel carpark on The Mall.
The two way cycle loop continues on Adams Avenue.
The council is seeking public feedback before implementing the trial because of the loss of the single car park on The Mall.
Bike Mount spokesperson Heidi Hughes presented a petition signed by 232 people to help make councillors decision easier.
She read out comments in favour of the trial from a number of the petitioners. And says they will be happy with the NZTA recommended 2.8m width for a two way cycle lane, instead of the 3m originally proposed.
"We just think one-way cycle way along there is setting it up to fail," says Heidi. "This is mostly about a lot of little kids on bikes and things. If they want to turn round a go back, they have nowhere to go they will have to go all the way around the peninsular.
"We think that at least we could trial it. We think that 2.8m is actually pretty good.
"Please councillors give it a go. It's a six month trial. We have spent a lot of time and energy bringing this to you and I remember at the last council meeting there was a lot of frustration around councillors saying 'why can't we just get some wins on the ground?' Well this is a win on the ground and its ready to go, and we are already half way there."
"We have to move away from a single mode of transport and really look at how we share our streets."
Transport planner Karen Hay says the community engagement will take place over the next couple of months with the trail possibly beginning
"There was quite a lot of enthusiasm for the trail given that it was a trial. I have not yet received any negative response to the trial," says Karen.
Consultation is expected to happen in May and depending on feedback, the trial is expected to be implemented in July or Augusts.
"Sometime you just need to get on and do the trial and see ow it works,' says Cr Larry Baldock. "I recall another project along pilot bay that had a lot of opposition from some people, and it's turned into one of our best assets."
More on SunLive...