Truck's trailer overturns on TEL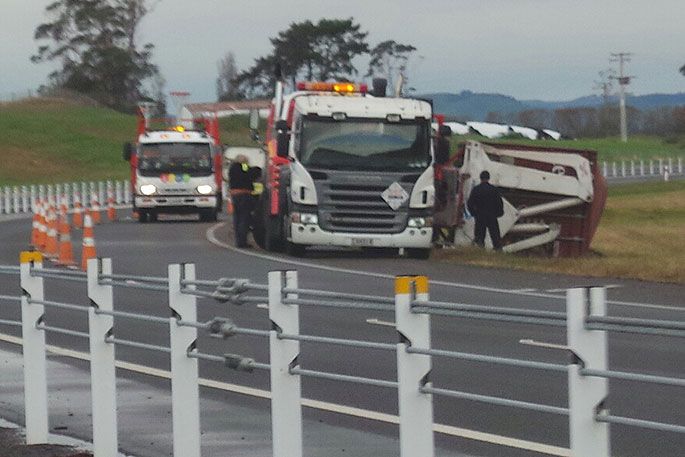 UPDATED 1.54PM: A truck which had its engine fail is believed to be the reason behind a number of delays on the Tauranga Eastern Link today.
One lane was blocked this afternoon after a container overturned from the back of it.
Western Bay of Plenty road policing manager acting Senior Sergeant Wayne Hunter says the engine failure occurred this morning. "The driver pulled to the side of the road at this time and they have since disconnected its trailer.
"They have attempted to put out stabilisers, but those have sunken into the dirt on one side and causing a container it was carrying on the back to tip over.
"A crane was called to assist with this but they have decided to leave the vehicle and trailer there until later this evening when there is less traffic."
A number of people who contacted the 0800 SUNLIVE hotline say fluid was also spotted on the road.
"Fire crews were spreading some type of substance over the road when I passed."
EARLIER:
One lane of the Tauranga Eastern Link is blocked as a crane removes an overturned container.
A caller to the 0800 SUNLIVE news hotline says the container appeared to be on the back of a truck when it overturned.
The container and the truck's trailer is off in a paddock, but police are blocking one lane of the highway as work is carried out to right the container.
More on SunLive...