Elite streets of Tauranga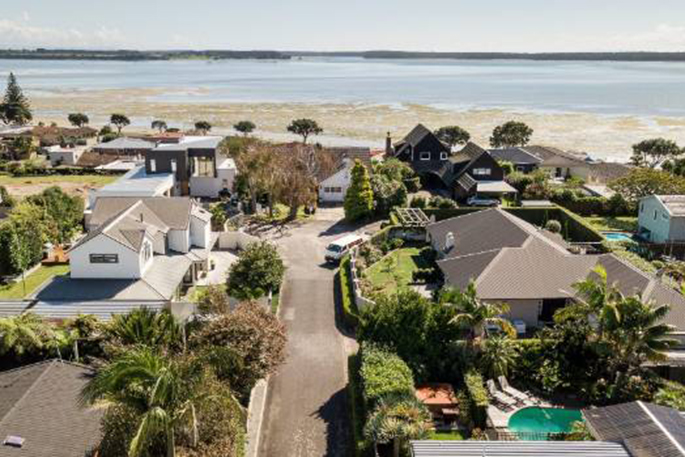 For years Tauranga was considered a bit sleepy – a place where young Aucklanders came to party once a year, and older ones came to retire to a place in the sun.
That's all changed, not because the Aucklanders stopped coming, but because they keep coming "in droves" as one real estate agent puts it.
Not surprisingly, that has had a huge effect on prices and residential development. If you want a beachfront bach at the Mount, you'd be hard pressed to find one to buy, and if you do, it could set you back over $6 million.
And while in some cities the "elite streets" considered most desirable by local real estate consultants are not the same as the highest median house price estimates, in Tauranga they are a close match, but the top three are different.
The most expensive streets – those with the highest median house price estimates as calculated by homes.co.nz – are Ngarata Avenue, Mount Maunganui, where the median is $1,623,748, River Oaks Drive, Tauriko ($1,620,469), Te Ngaio Road, Mount Maunganui ($1,618,789), Harbour Drive, Otumoetai ($1,526,258), and Sunny Downs Drive, Tauriko ($1,473,529). The average property value for Tauranga is $698,875 (QV).
But the consultants suggest a different order for the blue-chip streets. Two streets at the Mount were considered the most desirable, and they are the beachfront strips of Ocean Beach Road and Marine Parade.
Kay Ganley of Bayleys has sold a house in Marine Parade for $6.6 million, and knows of one in Ocean Beach Road that went for $6.2 million. Even an older house on Marine Parade is likely to set you back $3 million if it fronts the sea.
Sandra Power of Powers Realty says values have solidified further in recent years. "When we arrived in Tauranga nearly 20 years ago it was quite sleepy and we wondered if we would find work. It has changed so much. It used to be retired people that moved here. Now it's the entrepreneurial generation coming here to live.
"It's all about the beach," says Sandra. "It's a tried-and-true location. And while we love the old baches, there are not many left. It is common to pay up to $5 million for a waterfront property, but you might get a site for under $2 million with an old house that needs to be replaced."
The desire to be close to the beach means properties one street back are also worth big dollars. Ngarata Avenue, Te Ngaio Road and Muricata Avenue are extremely sought after. "I just sold a section on Muricata for $1.65 million," says Sandra. "And now, because the Mount is so landlocked the values of houses further along are increasing.
"Central Mount is most probably the area where values have increased the most in recent years – and the demographic of this entire area has changed dramatically. It was previously filled with a lot of rentals; it was easy to find a property to buy and there wasn't a million-dollar sale in sight. Now you are hard pressed to find a home in that location, and even half sites with reasonable homes are fetching $1m plus."
The picturesque countryside around Tauranga also gets a mention, notably River Oaks Drive in Tauriko.
Valley Road, Ranch Road, Lee Street and Gordon Road were all named by consultants as streets on the up. And houses overlooking the golf course at the Mount fetch high prices – Sandra says she sold one to an Auckland family for over $2 million. A little further along, Papamoa is also experiencing huge growth.
In Tauranga city, Waratah Way in Matua tops the blue-chip list with all consultants. Jan Hodges of Bayleys groups Waratah Way with neighbouring Ranui Street and Pah Street. "These streets are the crème de la crème," she says.
"They sit up on the ridge, with uninterrupted views. Waratah Way has views across Ferguson Park to the harbour and the Mount beyond. Prices here are usually from $3 million."
Waterfront streets Beach Road and Harbour Drive in Otumoetai, which Hodges describes them as "magnificent", also make the list.
Chris Royal of Eves Cherrywood says a lot of buyers develop full sites – if the section can take two or three townhouses, then that's what goes up. "They will maximise the land size if they can," he says.
"We see a fair amount of original houses being moved off sites. The sections can be anywhere from 40 to 80 years old. But they're not quite cutting the mustard with the younger buyers, who not only want the great location, but also want top-quality chattels and fit-outs."
Royal also puts Manuwai Drive in Matua and Milton Road and Pillans Road in Otumoetai on his "desirable" list, after the streets named above.
Out of town, it's more about lifestyle blocks, notably in the Bethlehem-Tauriko area, where is a mix of urban streets and sites of 3000 square metres or more. The appeal is not only the land and country outlook, but also the local integrated school, says Hodges. "People move in from all over the country to send their children to Bethlehem College, which has full education facilities from pre-school level right up to a tertiary institute."
Hodges names Moffat Road, Orange Lane and River Oaks Drive as especially sought after. "Here you would pay over $2 million for a house on a 3000 square-metre block."
This house for sale in Marine Parade is on the rear of a beachfront site. It is being marketed by Powers Realty, with a price guide of over $1.75 million.
Not Just the View
Jan Hodges lives in Matua herself, having moved from Bethlehem. "I love both equally," she says. "They are both fabulous places to live."
And the consultant says it's not just about the view – it's also about the water sports on offer, the community of "like-minded people" and the established housing. "There are not a lot of rentals and properties don't change hands very often. People stay in the same spot for many years. As soon as we bring one to market we are inundated with potential buyers."
Power says she has buyers who have waited two years for a property in one of Tauranga's elite streets.
Who is Buying?
Kay Ganley says most of the Bayley property sales at the Mount are to New Zealanders. "I have only sold one property to a Chinese customer, and it was a $5m+ property . But there are overseas investors buying property on the Tauranga side, purely for investment."
However, Sandra says 50 per cent of her sales are local and 50 per cent are Kiwis from out of town or overseas buyers.
"We find a lot of people from out of town buy a property with the intention of moving within a couple of years. They just want to secure the location now, and will rent it out for a while, which is worthwhile, as it is hard to find rentals."
-Additional reporting from Stuff
More on SunLive...