Growing produce year-round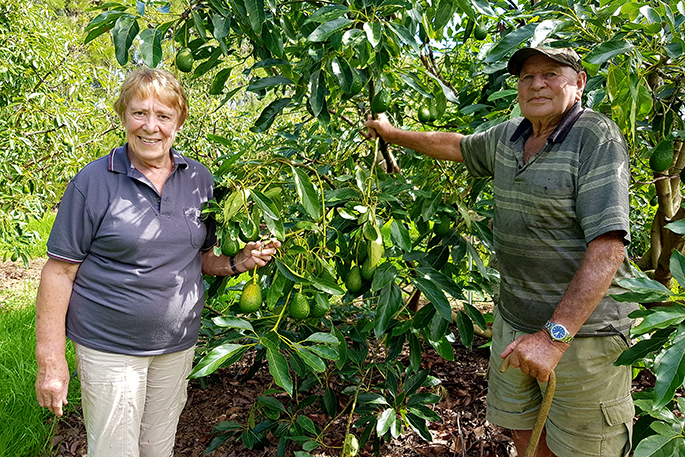 Athenree retirees Margaret Clode and John Mickell have taken advantage of the micro-climate conditions on their 1.6-hectare orchard to grow more than 50 types of fruit and nut trees.
And the couple reckon they have some of the earliest fruiting avocado trees around – and they put it down to one thing in particular.
The micro-climate of their property, which they noticed when first looking at buying it in 2003.
"We're facing northeast and were sheltered from the southwest…we recognised that when we first looked at the place.
"The kikuyu grass was taller than me when we first came here; I stepped over a bank and disappeared," says Margaret.
Being northeast facing, on a slope and sheltered from southerly winds, the property has been perfect for their avocado orchard, which provides them with a passive income from their 85 avocado trees.
"The reason we say we have a micro-climate is that we are early for avocados, early-July is when our maturity is; when 26 is the dry matter," says John.
Normal export of avocados is generally from late-August. Margaret says they are too early for export, so they sell to the local market.
"I sold some last year to a friend who has a coffee bar for $5 each because they were desperate for some good avocados, to do 'smashed avo', they were prepared to pay for it!"
The retirees have also taken advantage of the micro-climate to grow more than 50 types of fruit and nut trees on their 1.6-hectare orchard.
They keep these for personal consumption and have carefully planned their orchard so each fruit grows in its own ideal climate conditions to deliver optimum produce.
"My aim when we bought the place was to have food year-round that we grow ourselves and share with our families," says Margaret.
"What we did at the bottom is we put all the sort of stuff we'd grow in Southland and Otago – apples, pears and peaches, apricots and plums – with the citrus coming in between them all. We even grow bananas year-round."
Margaret says their biggest problem is the steepness of the hill. The top of the hill is 28m above sea level, while the bottom of the hill is much colder and very close to sea level. Because of the contour, the trees growing on the slope are frost-free.
"We had to find something to grow on the hill, and avocados seemed the best way to use the hill – and because it is frost-free, we used to have tamarillos planted in between the avocados and we use our little 4WD truck to get around," says Margaret.
The retirees believe the rise in popularity of avocados is due to advertising and the increase in awareness of the health benefits of the fruit and their "non-fattening fats".
Margaret says last season demand increased due to a shortage in supply from a very wet spring.
She's a strong believer in having flowering plants on the property year-round to attract bees and has a beautiful and prolific garden.
"It was a slow year because of rain through the flowering period…if the rain comes when the trees are flowering it washes the pollen away," says Margaret, who is kept busy from the subtropical weather patterns on her property.
More on SunLive...