Mount Maunganui erupts in fights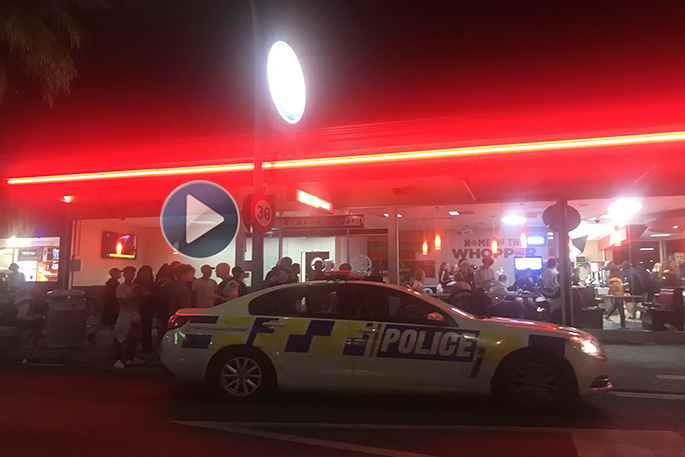 Click the image above to watch the video
Mount Drury, Grace Ave and Maunganui Road were the scenes of fighting this evening between youth.
There are reports of at least four fights breaking out, initially triggered by two 14-16 year olds who started arguing.
"The first fight started from gossip," says a 14-year-old girl who with her four friends witnessed the fights at Mount Drury playground, and wishes to remain anonymous. "Gossip from this boy. He doesn't like one dude. They were 14 -16 years old. They started arguing. And then heaps of people ran down because they had heard there was a fight. Then they just started punching each other. And then all these little fights broke out because other people started fighting them. They broke up, then other people knocked them around."
The girls say the fights started around the same time that the Night Owl Cinema movie evening began the screening of 'Thor Ragnarok' at Mount Drury. The groups fighting had left the movie and walked through the unlit park to the playground area.
"Just before the movie started, all these kids were walking through to the park. That was when the first fight started. With two people, and then there were about ten people in that fight. Another fight started half an hour after. It wasn't the same two, it was other dudes from the other fights that had happened.
"A few girls tried to stop it. And these other boys tried to stop it but one of them got hit. So he ended up fighting and then all his friends started fighting. The police came and everyone left."
The girls then walked with a group of about 25 along Maunganui Road to Burger King.
"The third fight was at Burger King," say the girls. "We had all walked down there to get a feed and then we all ran back down here to Mt Drury. Then there was another fight breaking out. Someone yelled out 'they've got a gun they've got a gun' and then the police showed up.
Another witness to the fights, age 13, was afterwards waiting outside Burger King with her friend.
"There were about 100 people there at Mount Drury," says the 13-year-old. "It was quite dark. We heard that one of the people there had got out a gun. I didn't see it. There were lots of people in the front row of the fight and they called out 'gun gun'.
"We were all in a big circle around two people who were punching and psyching each other up. They started off with a lot of swearing, it was verbal and then they started hitting each other. Then the cops came and everyone ran away."
At the Mount Drury playground, a 16-year-old and her boyfriend explained why they thought the fights they had witnessed had happened.
"It's all these kids, they're just asking for attention," says the 16-year-old. "They're intermediate age and some college students. It's like every time we have Night Owl, all the kids try and get attention. Mostly Year 9 and 10. It's not normally older ones. We left Night Owl because it was just too much annoying. Too much kids and they try and pick fights.
"There were about 100 over by the playground. They're not gangs. More like wanna be gangs. Just try hards. Just kids. They're all 12-14 year olds."
"We had about 500 people at the event tonight," says Kimberley Cleland, who is one of the organisers of the Night Owl Cinema. Security is provided by Aegis.
"Obviously we want to provide a safe place for young people to come to be a part of a positive event. We would love to work with anyone that wanted to help us with our periphery of our events, because we want to keep it safe for everybody.
"It's the minority again doing things that affect the majority which is a shame," says Kimberley. "Maybe we need a safe space or a hangout. The thing is you can do all that stuff and it doesn't necessarily mean they come either. We'd also like to talk with the young people about it.
"We've been working this season with Tauranga Youth Development Trust, and having their 100 per cent Summer programme which is all about having positive experiences in summer, not using substances. We've had them at our events and are working closely with them to make sure we are looking out for young people."
The members of the Tauranga Youth Development Trust were not present at the Night Owl Cinema event tonight.
"They run generally January and February," says Kimberley. "It's all funding dependent."
Night Owl Cinema are hosting a three-night weekend of movies, with Pele screened the previous night at Tauranga AFC in Links Ave, and Pete's Dragon being screened on Sunday April 9 at Mount Primary School in Orkney Road.
More on SunLive...