Light display leaves human mark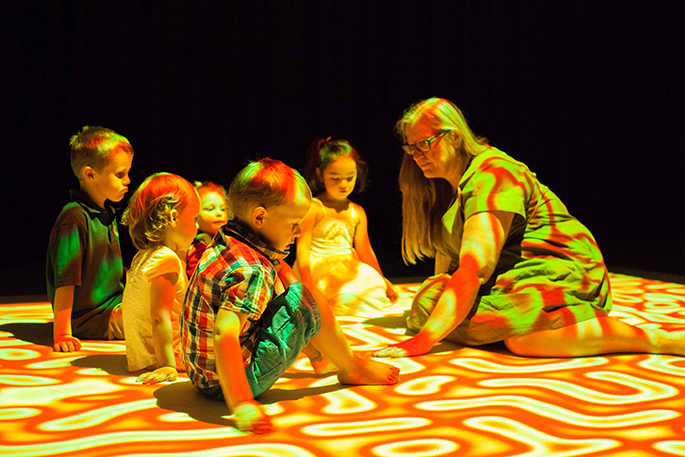 A digital artist Brian Knep is reflecting human movement by projecting light patterns.
Healing Pools is an interactive floor projection with patterns that change in response to visitors when they enter it.
Viewers interact with the work by walking, rolling or dancing across it, and the organic patterns on the floor pull away from them.
After the viewers move on, the patterns on the floor rebuild, but slightly different than before. The pool holds a history, or memory, of all the interactions that have occurred since the piece began.
"This project serves as a type of memorial, a constantly evolving record of change that honors the minuscule ways in which the slightest interactions—no matter how small or unintentional—have some impact. It is also an examination of how each person is, like the pool, a manifestation of everything that came before," says Brian.
The installation uses custom algorithms to create the organic patterns and high end technology. The patterns and their growth arise from the mathematical equations that the software simulates and which Brian has programmed.
Brian says the basis for these equations comes from biological and chemical models of molecular interactions that are at the core of all living things.
By amplifying them and making them visible and accessible, they become metaphors for human behavior and actions.
Participants quickly understand how the pieces react to them, but the subtlety of the behavior of the algorithm creates many possible, and often surprising, interactions.
"We're excited about bringing Healing Pools to the city as part of our interactive art programme Art Loves You," says Gallery Director Karl Chitham.
"It is part of our new exhibition Light Touch, which is the first immersive and multi-sensory experience of international light-based art to be seen at Tauranga Art Gallery."
Light Touch can be seen at the gallery on the corner of Wharf and Willow Street until June 17.
More on SunLive...