Conditions capture dry matter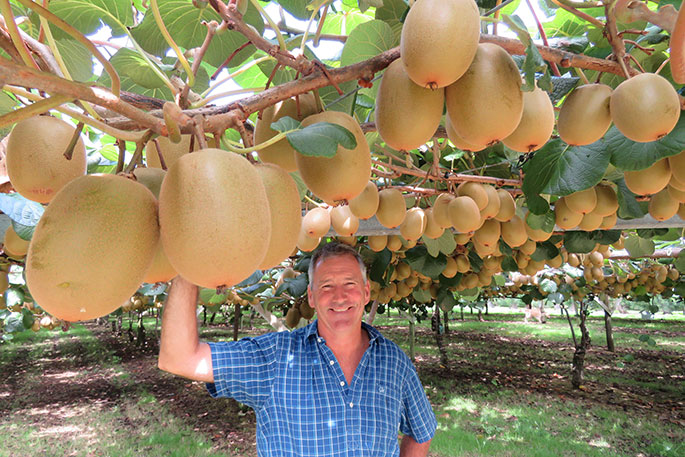 The amount of dry matter in fruit at harvest time will be of paramount importance to Western Bay of Plenty kiwifruit growers following an unusually wet 12 months.
While growers have reported little to no impact from the vine disease Psa-V, they are waiting to determine dry matter levels – which affect taste – in their fruit at the April-start to harvest.
Katikati orchardist and post-harvest operator Sean Carnachan says the amount of rain growers have recorded this season is phenomenal.
"In fact, I recorded close to 3m in 12 months," says Sean. "That's significant.
"During the winter months it was extremely wet, and in spring it was wet and cold, so we were concerned about the level of Psa we might have got.
"In Katikati the gold came through it really well. The green got a bit of infection in leaf-spotting and Hayward male flowers were affected.
"So it was manageable, but has reduced the flower numbers slightly in some orchards, generally in Katikati.
"There might not be as much fruit from those affected, but the size remains large."
Sean says pollination went well, with November and December exceptionally warm and dry.
"In January, February and March it has still been warm but we've been getting more regular rain and overcast days," he adds. "That potentially could impact dry matter."
He says the issue is that sea temperatures are exceptionally high and that's bringing weather patterns that are detrimental to getting dry matter into fruit.
"As a season, the proof will be in the pudding on how good the dry matter will be at harvest time."
More on SunLive...