The Modern Olympics and the North Pole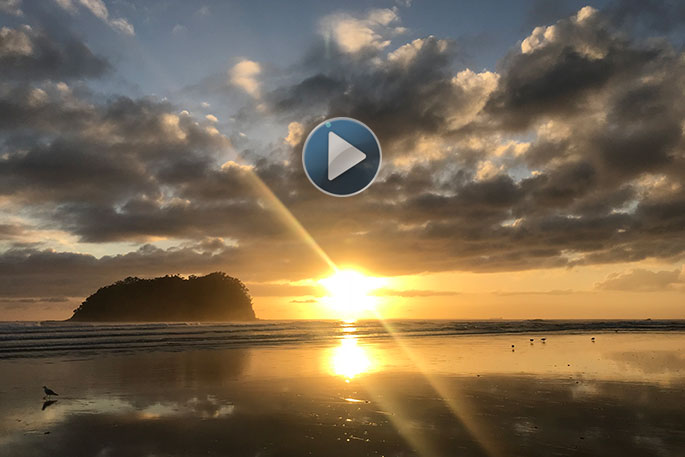 Click the image above to watch the video
This morning's sunrise video was filmed from the Ian Porteous Memorial Walk.
Today we are expecting a mainly fine day with some morning cloud and light winds.
It's a one-clothing-layer day today with a high of 23 and an overnight low of 13 degrees. Humidity is 94 per cent.
High tide is at 11am and low tide at 5.10pm. There's a sea swell of about 1m, with a sea temperature of 20 degrees. Sunset tonight is at 6pm.
If you're going fishing today the best fish bite time is between 4 and 6pm.
In NZ history on this day in 1864 a British patrol was ambushed by Pai Mārire warriors in Taranaki. In 1919 the NZ Māori Pioneer Battalion returned from war, The all-Māori Pioneer Battalion was one of only two New Zealand Expeditionary Force formations – and the only battalion – to return from the First World War as a complete unit.
In world history on this day in 1830 Joseph Smith and five others organized the Church of Latter-Day Saints in Seneca, New York. In 1896 the Modern Olympics began in Athens with eight nations participating.
In 1909 Americans Robert Peary and Matthew Henson became the first men to reach the North Pole. In 1917 the United States declared war on Germany and entered World War I on the Allied side. In 1924 four planes left Seattle on the first successful flight around the world.
Today is the birthday of Italian painter Raphael. Born in 1483, he painted Sistine Madonna. It's also the birthday of physician W. Warrick Cardozo, Born in 1905, he was a researcher of sickle cell anaemia. Today is the birthday of James Watson, born in 1928 and co-discoverer of the structure of DNA. James once said "I think the reason people are dealing with science less well now than 50 years ago is that it has become so complicated."
To get involved in some of the many activities happening around the Bay, please check out our What's on page.
Have a great day!
More on SunLive...