Hopetoun Brown hitting Baycourt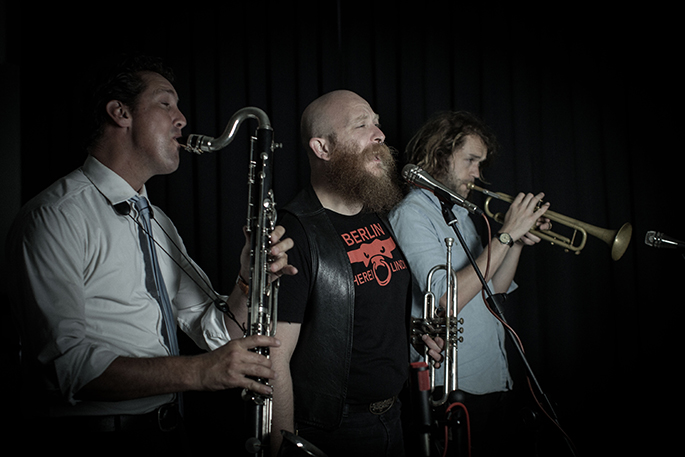 Three of New Zealand's most talented multi-instrumentalists are gearing up to take Tauranga audiences on a unique musical journey at Baycourt this month.
Baycourt in association with Arts on Tour NZ are proudly presenting 'Hopetoun Brown and the genius of Finn Scholes' in the Baycourt X Space on Monday April 23.
Horn-heavy duo and 2017 Taite Prize finalists Hopetoun Brown are Tim Stewart and Nick Atkinson, who many may recognise as the horn section and founding members of iconic Kiwi band Supergroove.
Nick says being in a horn section is like being 'a band within a band', hence the transition for him and Tim to their own act.
"Tim and I have known each other since primary school, but Hopetoun Brown didn't really come about until Tim started singing and I got a bass clarinet."
He describes the instrument as an 'anorexic saxophone made of wood', but says it produces a great sound that complements Tim's voice.
They will be joined on stage by the country's finest trumpeter Finn Scholes, who leads Auckland band Carnivorous Plant Society and has also performed with many great acts like Neil Finn, Gin Wigmore, Avalanche City and Tiny Ruins.
"Finn has become a very good friend over the last 18 months. He's an extraordinary talent – there's no other way to describe him," says Nick.
Baycourt Manager Megan Peacock Coyle says audiences should prepare to have their minds blown by the musicians – if you'll excuse the pun.
"These guys are such talented musicians who create truly astonishing music, and if you are passionate about music this is a concert I would definitely recommend checking out."
Hopetoun Brown and Finn Scholes travel from town to town with a boot-load of exotic instruments, and across two energetic sets the three will swap bass clarinets, tubas and trombones for trumpets, saxophones and an assortment of strange keyboard instruments.
While lead singer Tim Stewart's large boots will rattle floors throughout the nation as the band work through their repertoire spanning blues, soul, funk, jazz, Americana and stomp.
This fiery trio will play songs from across the Hopetoun Brown cannon, including their brand new long-player 'Don't Let Them Lock You Up!'.
'Hopetoun Brown and the genius of Finn Scholes' is on at Baycourt from 7.30pm, Monday April 23. Tickets are from $15 online at www.ticketek.co.nz.
WIN WITH THE SUN
The Weekend Sun has one double pass to Hopetoun Brown's April 23 show at Baycourt for one lucky reader who can tell us which other Kiwi band Nick Atkinson and Tim Stewart helped found.
Enter online at www.sunlive.co.nz under the competition section. Entries must be received by Wednesday, April 11.
More on SunLive...