The difficult birth of a green space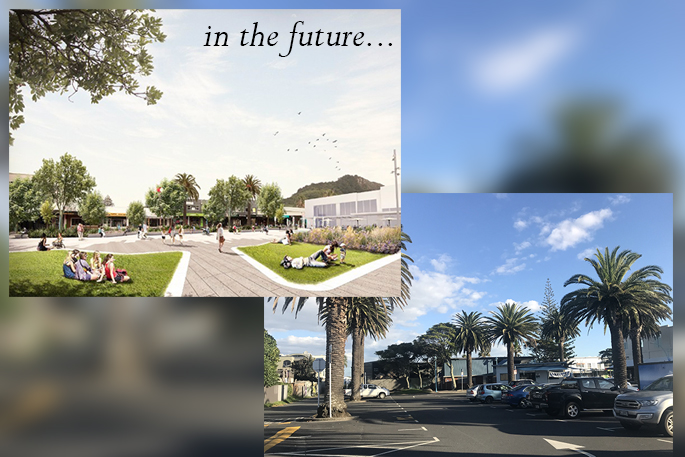 It is probably one of the most controversial addresses at the Mount.
But now, after a long and at times acrimonious process, the transformation of the Mount Maunganui Phoenix carpark at 123-141 Maunganui Road, from blacktop into a largely "urban green space" fringed with eateries, is happening.
Work started this week and, according to Tauranga City Council, by December the site will feature grass areas in which to play and relax, native trees for shade and a flexible space for year-round events and activities.
"The park is designed for people to enjoy," says deputy mayor Kelvin Clout. "It will create a greater sense of belonging for our community by encouraging social interaction through a shared space to rest and play."
Councilor Leanne Brown hopes the new space will encourage visitors and locals to stay longer in the CBD. "Local businesses will also enjoy economic benefits through increased foot traffic and a relaxed customer experience," says Leanne.
The plan to create the trendy new green space was divisive from the outset – some retailers were concerned it would impact their businesses and profitability and it caused ill-feeling, anger and fear.
But ideas were batted back and forth, resulting in trade-offs and compromises, and now the plan is underway.
First, a number of Phoenix palms at the northern-end of the park will be removed. That end of the carpark will be blocked off after Easter weekend. The rest of the car park will remain available as long as possible.
Council are in collaboration with Mauao Properties, which is redeveloping an adjacent site. The existing building will be demolished, and from the rubble will grow a new building featuring retailers and outdoor dining facilities spilling onto the new open green space.
Both projects are scheduled to be completed and open in December 2018.
The number of parking spaces at the car park area will fluctuate during construction. Parking spaces that remain become free of charge, with time limits.
The final park design will retain up to 20 car parks. The parking area next to May Street will remain open and will be expanded to include 12 extra parking spaces.
New permanent parking spaces are also being added in Nikau Crescent and Prince Avenue, retaining the balance of parking spaces in the downtown Mount area.
You can follow the development at: www.tauranga.govt.nz/urbanspace
More on SunLive...