Major airline backing Bay netball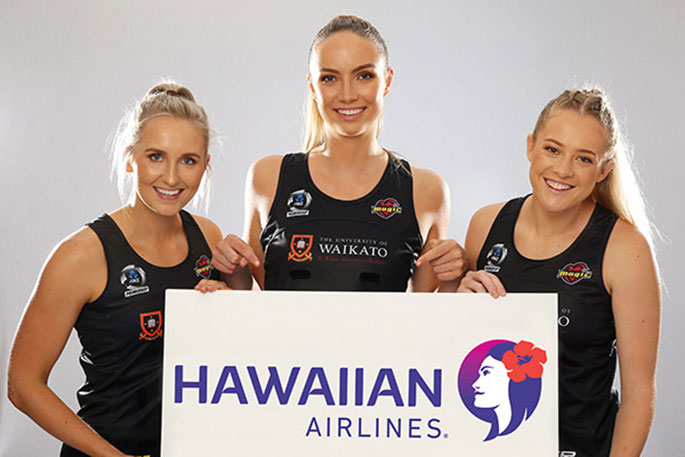 Hawaiian airlines has announced its support for Netball in New Zealand through a major sponsorship of the Waikato Bay of Plenty Magic and Northern Stars ANZ Premiership teams.
The airline joined management and officials from both teams to make the announcement during the WBOP Magic v Northern Stars pre-season match at the Silver Fern Farms Events Centre in Te Aroha recently.
Hawaiian will become a sponsor and Airline partner of both teams. The airline has now been flying to New Zealand for five years.
Russell Williss, Hawaiian Airlines New Zealand Country Director, says the carrier looks forward to welcoming the WBOP Magic and Northern Stars to Hawaiian Airlines 'Ohana' (or 'family' in Hawaiian).
"Hawaiian Airlines chooses its sponsorship commitments carefully to match our own culture and values and New Zealand Netball is a great match with many of our own principles - integrity, responsibility, teamwork, diversity, passion, community and family – to name a few," he says.
"Netball is New Zealand's leading women's sport, with massive community engagement and we are delighted to be sponsoring two of the country's most inspiring teams."
Netball Waikato Bay of Plenty Chief Executive Rohan West says they are excited about the partnership.
"We are both delighted and excited to welcome Hawaiian Airlines as a major commercial sponsor of the Waikato Bay of Plenty Magic.
"As our new Airline Sponsor, Hawaiian Airlines brings an exciting, international dimension to our team and our game.
"There are so many synergies and shared values between the WBOP Magic and Hawaiian Airlines that this partnership just feels right from the beginning.
"We will work with Hawaiian Airlines on exciting opportunities for supporter engagement, especially focussing on enhancing the live game experience. Without giving away too much, fans who come to WBOP Magic home games may find themselves on board Hawaiian Airlines to Honolulu."
Northern Stars General Manager Dianne Lasenby says the Northern Stars are proud to have Hawaiian Airlines join their family of sponsors.
"We are absolutely delighted to welcome such an innovative international carrier as Hawaiian Airlines joining as our official airline sponsor. To bring on board such a well-recognised partner demonstrates the value of partnering with our sport.
"We are excited to develop our relationship with Hawaiian Airlines and we can't wait to start rolling out some very exciting initiatives for our fans."
More on SunLive...