Drone likely cause in Waihi plane crash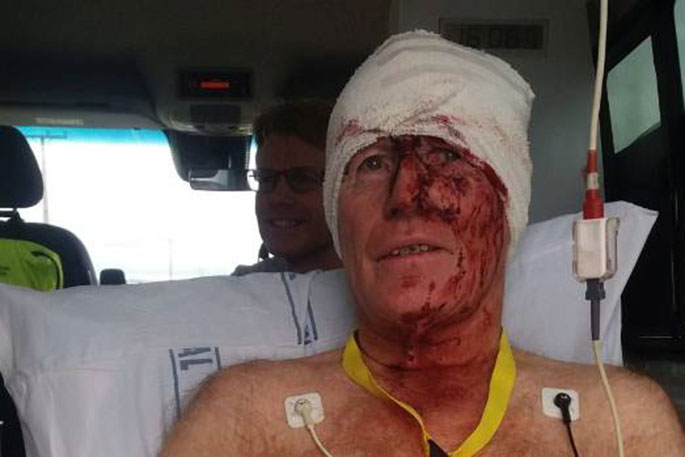 Hanging upside down in a Waihi cornfield with blood in his eyes pilot Rod Vaughan did not have time to wonder what his aircraft had hit before crash landing.
Now his wounds are healing he is certain it was a drone.
If he is correct it will be the first time a drone has taken down an aircraft in New Zealand, but there have been many reported near-misses.
Recently a drone came within five metres of an incoming 777-200 plane approaching Auckland putting 278 passengers at risk.
Vaughan, a former investigative journalist who was once punched by Sir Bob Jones, was out enjoying a flight in a Aeroprakt Foxbat with his son on Wednesday afternoon.
As they were taking in the sights of the local gold mine, disaster struck.
"Without any warning a tornado of air was just racing inside the cockpit," he says.
The force of the impact, and pressure of the wind, dislodged the two doors which dangled behind the aircraft still tethered to the airframe.
"I immediately looked to get the plane on the ground. We were about 1600 to 1700 feet at the time and we came down in about 30 seconds."
Vaughan aimed the stricken aircraft at a cleared corn paddock near Ford Rd.
"There was a hedge that I think I clipped on the way," he says.
The bumpy paddock put too much pressure on the front wheel. It buckled causing the plane to flip 180 degrees.
Vaughan and his son were able to walk away from the crash but not without injury.
His son was able to brace himself during the crash so suffered only bruising from the seatbelt. Vaughan cut his head in the crash.
"We got ourselves out and called for help," he says. "We could have been killed."
Vaughan says the fact the window imploded in the manner it did left him with three theories.
"One would be a bird strike but we didn't see any bird activity in the area," he said.
"The second would be a high velocity rifle shot but I think we can rule that out.
"Another option is a drone."
Vaughan hopes the Civil Aviation Authority conducts a thorough investigation into the incident but he admits the truth might never come out.
"I don't think someone is going to put their hand up and say, 'I am missing a drone and it was last seen flying near your aircraft'."
Vaughan says spotting a drone while flying is nearly impossible and the prevalence of drones is putting amateur airmen at risk.
"Kids can buy drones for $90 at the Warehouse.
"It's hard enough to spot a plane in the air which is why we rely on radio reports but drone operators are not using radios."
The CAA said they are still conducting an investigation and will make comment when more information comes to hand.
President of the Airline Pilots Association Tim Robinson says he's alarmed at the number of near misses involving drones and is also calling for greater regulation.
"There's been a growth in the sale of drones recently which is why there needs to be tighter regulation."
Robinson says it's time New Zealand fell in line with other countries when it came to regulation.
"Registration of drones over 250g is already in place in the United States and Australia. It's easy in the United States where they have an online registration."
He thinks fixing the problem will require a multi-faceted approach but sees the onus of understanding regulations as falling on the person flying the drone.
- Stuff/Matt Shand.
More on SunLive...