Conmen, Coco-Cola and composers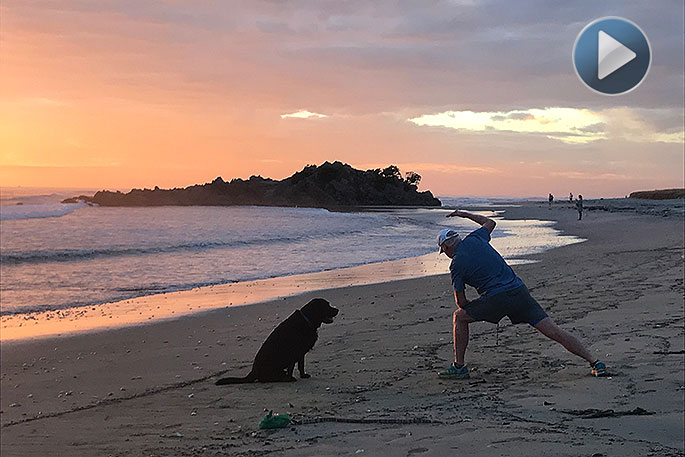 Click the image above to watch the video
Today we are expecting a mostly cloudy day with a few showers, turning to rain in the evening. Also northwest breezes.
It's a one-clothing-layer day today with a high of 24 and an overnight low of 16 degrees. Humidity is 95 per cent.
Low tide is at 11.50am and high tide at 6pm. There's a sea swell of about .3m, with a sea temperature of 21 degrees. Sunset tonight is at 7.12pm.
If you're going fishing today the best fish bite time is between 10am and 12 noon.
In NZ history on this day in 1901 Skippers Bridge was opened. At 96 m long and 91 m high, the suspension bridge over the Shotover River near Queenstown in Central Otago is one of the most spectacular bridges in New Zealand.
On this day in 1942 convicted conman Sydney Gordon Ross duped New Zealand's intelligence service into believing that Nazi agents were planning to carry out sabotage in New Zealand.
In 1959 Evangelist Billy Graham arrived for an 11-day crusade. In the first half of 1959 Billy Graham and his associate evangelists Leighton Ford, Grady Wilson and Joseph Blinco held crusades in New Zealand and Australia which attracted large audiences.
In world history on this day in 1827 composer Ludwig van Beethoven was buried in Vienna amidst a crowd of over 10,000 mourners. In 1867 the United States purchased Alaska from Russia for $7.2 million dollars.
In 1886 Coca-Cola went on sale for the first time at a drugstore in Atlanta. Its inventor, Dr. John Pemberton, claimed it could cure anything from hysteria to the common cold. In 1967 France launched its first nuclear submarine.
Today is the birthday of English-born American Elihu Thomson. Born in 1835, he was the inventor of electric welding and arc lighting. He once said "Publish an invention freely, and it will almost surely die from lack of interest in its development. It will not be developed and the world will not be benefited. Patent it, and if valuable, it will be taken up and developed into a business."
To get involved in some of the many activities happening around the Bay, please check out our What's on page.
Have a great day!
More on SunLive...