Kemper's race against time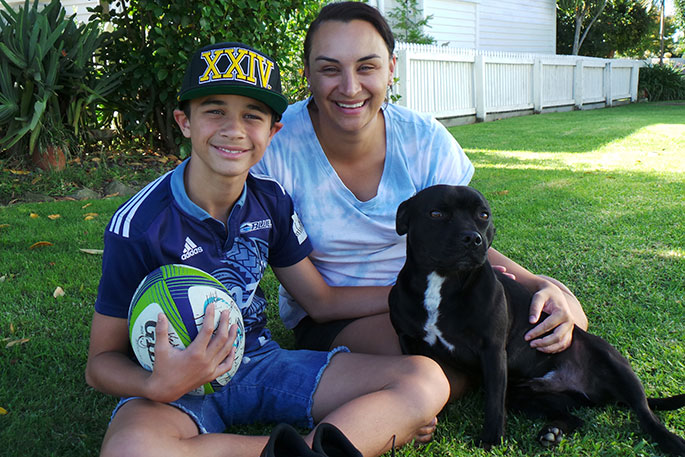 Kemper Beatson is very clear about what he wants to achieve this year, including completing this weekend's Foundation Clinic Mauao Half Marathon with dad Anthony and family friend Eddie Jeacock.
"I'm gonna smash it," says the 12-year-old.
He's racing against the clock, and not just the one recording finish times on Saturday.
Kemper has a rare inherited disease called Freidreich's ataxia, that causes nervous system damage and movement problems. One day it may rob him of his ability to walk, so he's wasting no time making the most of the physical activities he enjoys so much.
He plays blindside flanker for the Greerton Marist under-13 side, and is training to compete in para swimming at this year's AIMS Games.
There is some overseas travel on the cards later in the year too, and he's fresh from attending his first live music concert after seeing Bruno Mars. He can't stop grinning about it, and his souvenir cap is handled with reverence.
Kemper decided to tackle the half marathon at the suggestion of his physiotherapist Craig Newland, who is also the event director.
"Craig said 'Kemper, you should do this' and I said 'yeah, okay', not knowing what I had agreed to."
As a member of a three-person team, Kemper will do one leg of the half marathon – up, down and around Mauao, a distance of 7km. Tackling the narrow stairs will be one of his biggest challenges, but he will be accompanied by his dad for support.
His condition means he will have to step carefully and take it slowly. He sums it up pretty succinctly.
"There's a lack of communication between my legs and my brain," explains Kemper.
He has only climbed Mauao three times before, but has been getting some pre-season rugby training in, as well as his weekly physiotherapy sessions.
His favourite rugby team is the Blues. Why not the local Chiefs? He rolls his eyes.
"It's a long story. When I first started watching rugby I was into Ma'a Nonu and he played for the Blues for about three years.
"Then he went to the Highlanders and the 'Canes. By the time he went to the 'Canes, dad had already bought me a Blues t-shirt. When I asked if I could support the 'Canes he said 'no, I've just spent $100 on your top. You're sticking with that team'."
As well as sport, Kemper enjoys making videos and is in a multi-media class at Tauranga Intermediate School. One day he would like to set up his own YouTube channel.
He is also an ambassador for Cure Kids, and for the past two years has organised a Red Nose Day fundraising event at his school.
Kemper was diagnosed with Freidreich's ataxia in January 2016 after his mum, Carly Pohatu, became concerned after one fall too many. Initially, she put the trips and falls down to general clumsiness.
"I roll my ankles all the time, so I thought he was just clumsy like me," says Carly. "When he started walking into walls I knew something wasn't right. As a student nurse I'd also been learning about the brain and realised it could be something serious."
Friedreich's ataxia effects everyone differently, but the reality is that Kemper may lose his ability to walk one day.
"Kemper may need to go into a wheelchair at some stage," says Carly. "We've met a lot of adults at the clinic [Friedrich ataxia clinic at Monash Medical Centre in Melbourne] and they are mostly in wheelchairs, or have some sort of mobility aid."
Both Carly and Anthony carry the recessive gene that causes Freidreich's ataxia. If both parents are carriers, their children have a one-in-four chance of having the disease. As yet, neither of the couple's other sons, Ged, 8, and Whai, 6, have shown any signs of the disease.
"We don't know yet because the onset can be any time between seven and 15-years-old."
About 80 individuals and 50 teams of three will be taking to Mauao on Saturday, March 24, for the Foundation Clinic Mauao Half Marathon.
The course involves ascending and descending Mount Maunganui three times and three laps around the base track.
Event director Craig Newland says the aim of the event, now in its third year, is to inspire the community to lead more healthy and active lifestyles.
The event gets underway at 7.30am, with prizegiving on Mount Main Beach at 12pm.
More on SunLive...