Heavy rain forecast for today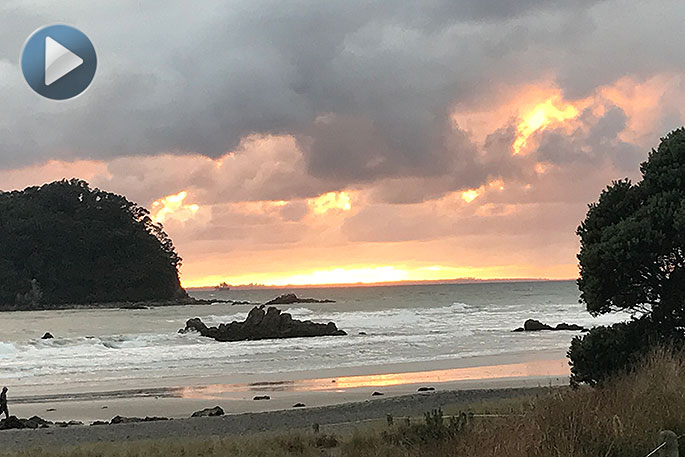 Click the image above to watch the video
Today we are expecting a few showers, with a chance of them being heavy from the afternoon. Also northeasterlies.
It's a one-clothing-layer day today with a high of 22 and an overnight low of 16 degrees. Humidity is 91 per cent.
High tide is at 12noon and low tide at 6.20pm. There's sea swell of about 1 m, with a sea temperature of 21 degrees. Sunset tonight is at 7.21pm.
If you're going fishing today the best fish bite time is between 5pm and 7pm.
In world history on this day in 1743 Handel's Messiah was performed for the first time in London. In 1775 American revolutionary hero Patrick Henry, while addressing the House of Burgesses, declared "Give me liberty, or give me death!"
In 1857 Elisha Otis installed the first modern passenger elevator in a public building, at the corner of Broome Street and Broadway in New York City. In 1858 Eleazer A. Gardner of Philadelphia patented the cable street car, which runs on overhead cables.
In 1880 John Stevens of Neenah, U.S.A patented the grain crushing mill. This mill allows flour production to increase by 70 per cent.
In 1903 the Wright brothers obtained an airplane patent. In 1909 British Lt. Ernest Shackleton found the magnetic South Pole.
In 1921 Arthur G. Hamilton set a new parachute record, safely jumping 24,400 feet. In 1927 Captain Hawthorne Gray set a new balloon record soaring to 28,510 feet.
Today is the birthday of Sir Roger Bannister, the first man to run the mile in less than four minutes. Born in 1929, he once said "It is the brain, not the heart or lungs, that is the critical organ".
To get involved in some of the many activities happening around the Bay, please check out our What's on page.
Have a great day!
More on SunLive...