First month of training in the bag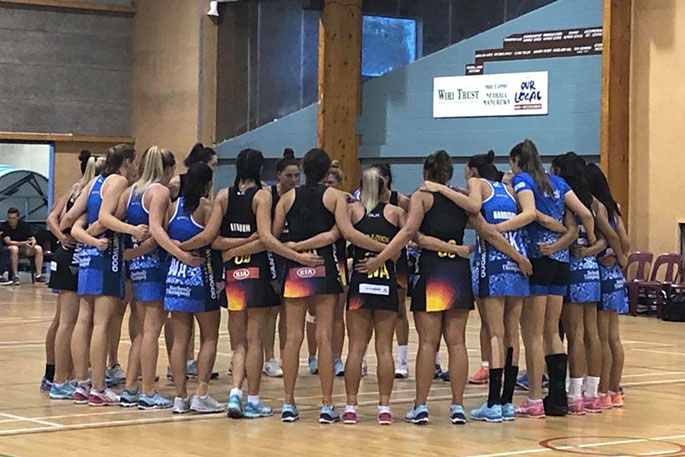 Waikato Bay of Plenty Magic Head Coach Margaret Forsyth has described the team's first month of pre-season training as busy, but a great reunion after a long break off.
The team has been training and practicing predominantly without the New Zealand team players, Sam Sinclair and Kelly Jury, as their Commonwealth Games camps have taken up much of the pre-season preparation.
Lenize Potgieter has also been selected for the South African team. The wider management and playing team, are delighted about their selection, and wish them well at the Gold Coast.
"The first couple of weeks were a lot of strength and conditioning and testing," says Margaret.
"We then had a mini-camp at Papamoa in mid-February, which was an excellent way for team members to get to know each other better, build relationships and revisit our team vision and goals.
"The players devised and took part in a range of whole team challenges, personal stories were shared and life skills around self-awareness and acknowledgement were key sessions."
February's conditioning block saw the team finish the boxing and hard conditioning sessions to move into more tactical sessions in preparation for our preseason games in March.
Players are training hard week to week to 'Win their Moment'.
Margaret has also commented on the first pre-season game, which was on Wednesday March 7 in Auckland against the Mystics.
"We took a squad of 11 to the game, including all three training partners and one Beko player Courtney Elliott. Sam and Kelly were away with the New Zealand team, and Casey and Lenize had minor ankle injuries that we didn't want to risk.
"Although we lost the game 41-49, we won quarters one and four, lost quarter two and drew quarter three.
"All players got at least one full quarter on court. Overall, I was very happy with the run out, with terrific performances across the board, but especially from Sydney Fraser, Kat Levien and Captain for the night, Hayley Saunders," says Margaret.
The WBOP Magic will play the first competition season against the Central Pulse, on May 20 – 4.10pm, at Claudlands Arena.
More on SunLive...