Cyclone Hola still tracking towards NZ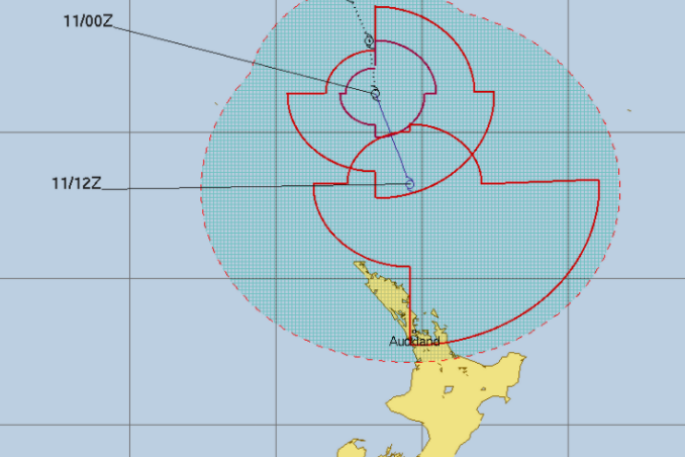 Tropical Cyclone Hola continues to track quickly towards New Zealand and will bring wind and rain across Monday before departing in the early hours of Tuesday morning.
As of 4.30pm Sunday Hola still had sustained winds of around 100km/h and gusts to 130km/h.
By midnight tonight winds are estimated to be around 80km/h with gusts to 100km/h, says WeatherWatch.co.nz
The centre should be a few hundred kilometres north of Northland by midnight tonight with the storm tracking from the north west to the south east.
"Hola has today begun the transition from a "tropical" cyclone (with a warm core) to an "extra-tropical" cyclone (with a cold core).
"While on the ground you don't notice this the storm structure does change a lot - with the centre becoming stretched out and elongated in the New Zealand area, this spreads energy further afield and can reduce peak winds," says the weather organisation.
"Hola has a small but very potent burst of rain with it. Best estimates is that this torrential rain will brush Northland, potentially Coromandel Peninsula but could be most intense though Bay of Plenty and into the Gisborne and northern Hawke's Bay ranges.
"This rain may cause flooding and slips in these areas and affect State Highways. Winds associated with this cyclone will change a lot due to the centre of the low morphing into a new system.
"Wind damage may be in certain areas rather than widespread, with various wind tunnels being one factor and the other factor being the damaging winds right at the centre of the low - but these winds will only cause damage near the centre, so if the centre remains out at sea so too will the worst winds."
WILL HOLA MAKE LANDFALL IN NZ?
When Gita and Fehi formed the chances of them making landfall based on long range modelling from various forecasters was easy - the storms both had high chances, in our view, of landfall due to the western approach.
This storm is coming in from the north and is tracking south east - which means it runs parallel to a line that runs from Northland to Coromandel Peninsula towards East Cape.
Some models show it could come very close to Northland on Monday morning, but most agree East Cape has the highest chance of the centre coming in.
"Believe it or not, despite being just a day out, we still need more time to fine tune this," says WeatherWatch.co.nz
"Once the storm is within a couple of hundred kilometres it will be easier to work out - and will start to appear on public rain radar too.
"Hola is now less than 1000kms north of Auckland. At the moment a direct landfall in New Zealand (when the very centre crosses land) looks less likely - but is very close in the current modelling."
More on SunLive...