Growing a 'billion-dollar industry'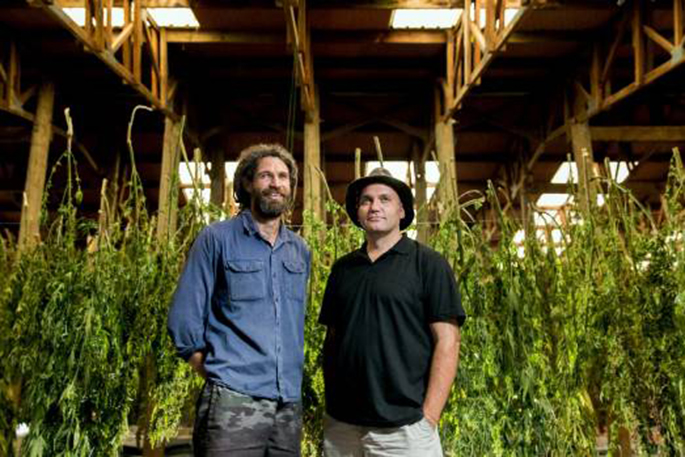 Growing marijuana has turned from a cause for conviction to a well-paid job for locals of a destitute town north of Gisborne.
In a rundown woolshed in Ruatoria, 17 of them laugh over reggae music.
Some are as young as 18. Some have been to prison. Soon, they could be earning about $80,000 each.
It's white bread sandwiches and sausage rolls for lunch, washed down with a chilled Steinlager. They will swim in the Waiapu River afterward.
Well deserved after a tough morning harvesting thousands of marijuana crops in March's heat.
Together they have pulled 5000, metre-high hemp plants from the Ihungia Station property. They managed to do so before the rain hit mid-week.
It hangs over wire lines to dry under the shed's shelter. The stench inside makes your eyes ache.
They do not laugh because they are carrying out illicit activities to the obliviousness of authorities, or because they are high on their own product.
They laugh because they are happy. Happy to no longer be behind bars, to be off the benefit and to have found a source of income that does not break the law.
They are employees of health product company Hikurangi Enterprises' subsidiary, Hikurangi Hemp.
Hikurangi currently holds a license issued by the Ministry of Health to grow two strains of marijuana for research and development purposes.
The workplace could soon be the first legal commercialised operation of New Zealand-grown medicinal marijuana products if Labour's Misuse of Drugs (Medicinal Cannabis) Amendment Bill is enacted.
It passed its first reading in January. The Government is now accepting submissions to present to Parliament's health select committee this year. It will need to pass another two readings in Parliament before it is made into law.
AT A CROSSROADS
As the bill stands, Hikurangi managing director Manu Caddie is not confident the "good proportion" of his workers with convictions will be allowed to keep their jobs.
He employed them because they know marijuana plants best. He calls their cultivation convictions "recognised experience".
"They are the ones that need the jobs, want the jobs, who are going to be the best growers."
To him they're colleagues, not criminals.
"It's something they did out of necessity to put food on the table for their families. It's a sensitive issue for our staff."
Regulators are reluctant to let them work with "weed" because they could end a shift with "buds" in their back pocket to sell illegally again, he says.
Ministry of Health prevention manager Emma Hindson says the bill does not disqualify workers with criminal records but if it is enacted, the ministry is likely to bar workers with a drug conviction working for licensed growers or manufacturers.
"[The act is] likely to be guided by hemp regulations which prevent licence holders, company directors, and responsible people from having a drug conviction."
Caddie says that's illogical. If workers are paid $80,000 annually, they will have no reason to return to the black market.
"They've done their time, they've paid the price, they've been convicted and paid whatever penalties they needed to.
"They want a legitimate job, they don't want to be looking over their shoulder and [have] the police chasing them. They want to be able to feed their family."
In Hikurangi's select committee submission, the company will fight for the Government to allow it to employ once-illicit suppliers, Caddie says.
"It would be such a shame if they were excluded from it."
To be victorious, Hikurangi must prove it has high security measures in place.
Its crops now are completely open. A thin, blue mesh fence surrounds them. The property is entered into through farm gates.
It will look different in a year, Caddie promises. Only authorised staff will be able to enter the property with swipe cards. Guards will stand at the gates 24 hours a day, seven days a week. Marijuana will be transported in armoured cars.
The Opposition has not yet queried the security of operations like Hikurangi's.
National health spokesman Jonathan Coleman said his party supported the bill to select committee stage, but it "is a long way from perfect".
"The Government needs to provide a whole lot more detail. Until we see the details, we can't make any analysis."
He was quick to rule out supporting people with drug convictions working with marijuana.
"That sounds like a bad idea to me. It would be inappropriate for people with drug convictions to be involved in any Government-sanctioned medicinal marijuana scheme."
MONEY TALKS
The bill allows for the development of a domestic industry to make medicinal cannabis products for New Zealanders who have one year left to live. It does not mention exporting the products.
But Caddie says marijuana's export value could add $1 billion to the economy in three years. He is pushing the Government to include a provision for exportation in the bill.
Global suppliers are already knocking on Hikurangi's door offering big bucks for New Zealand-grown marijuana and its extracts.
Hikurangi just signed a conditional $160 million three-year supply deal with United States health product manufacturer Rhizo Sciences to export cannabidiol extracts, THC extracts and whole cannabis flowers to Seattle.
Three more international suppliers have shown interest since, Caddie says.
"[I was] talking to a European dealer this morning who has got buyers and he said, 'New Zealanders, if you guys can export stuff, we've got buyers that would love to access it.'"
Inking conditional deals is deliberate. It proves to politicians that big business is behind the bill.
The world will pay up to US$10,000 (NZ$13,700) for 1 kilogram of marijuana extracts, Caddie says.
"What we want to show is the evidence that people want to buy this stuff at this price, and the job creation."
If the bill is enacted this year, another 122 locals would be working at Hikurangi's Ihungia Station this time next year, he says.
REGULATION V RUATORIA
Plans have been in place to fix up Ruatoria township, originally named Cross Roads, since 2008.
So far Gisborne District Council has reinforced the river, fenced where the forest meets road and added a speed bump and noticeboard to the main drag.
But unemployment remains high and benefits are common.
At the end of last year, more than 900 people in the East Coast were on a benefit, excluding pensioners, Statistics New Zealand data shows.
Caddie says Hikurangi has created "a real buzz around town".
The company wants locals to invest in it. Its executives will travel the region this month, offering equity for as little as $50 through a private crowdfunding round.
Hikurangi needs $12m to build greenhouses, processing facilities and carry out clinical trials for CBD oil.
It plans to get $3m of that from crowdfunding, another $3m from institutional investors and $2m from a commercial partner.
Caddie wants the Government to pick up the remaining $4m tab. It is an investment in the region, he says.
"If you let us do this, this is going to have a transformational impact. Successive governments have asked for transformational projects for places like the East Coast. This is one of those."
He was open to giving the Government a stake. But, given the Government's commitment to regional economic development, he hoped it would offer a grant or a low interest loan instead.
Some of Hikurangi's 17 staff will travel to Wellington to present the company's select committee submission in person mid-year.
There may be fewer laughs that day as they battle for a bill that has brought hope to their hometown.
More on SunLive...