REVIEW: The Jailhouse Frocks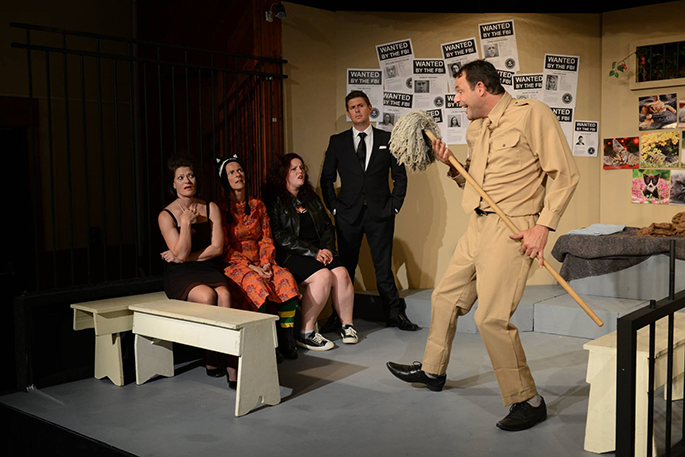 Detour Theatre's Devon Williamson is one talented guy.
The local playwright has been pumping out fresh, original comedies once a year for a while now, typically premiering his work at the theatre down in the Historic Village in March.
This year his latest is 'The Jailhouse Frocks' – and it's a good one.
Set in a police station in a small American town, the play covers one night in which three very different women end up in the single cell, under the not-so-watchful eye of bumbling police officer Dwayne Pope (Chris Traill).
Cathy Monroe (Kim Williamson) is a local homeless woman who sees the world differently, to put it diplomatically; Elena Davidson (Susi Jansen) is a well-to-do society lady who has a very bad night and ends up in the cell; and Gloria Romano is a New York 'dame' running from her mobster husband, Tony Romano (Brendon Weatherley), when she ends up joining the other two ladies behind bars.
It's a small set (all the action takes place in one room) and a small cast, with the emphasis here being on the humour arising from the confined situation. The jokes come thick and fast, and they're pretty good – the opening night audience was in stitches, particularly when it came to the song and dance numbers. I won't ruin the surprise, but there are a few tunes in the play that are worth coming along to see alone.
The cast are all very strong, delivering consistent performances while keeping their accents under control (all have traded their Kiwi twangs for Dixie ones, or one from 'Noo Yawk'). Chris Traill in particular stands out as Dwayne, the play's central character. It's a role the play's programme says was written especially for Chris, and he tackles the physical humour and slow-witted observations with great control.
As usual, Detour's set is a thing of beauty, transforming the intimate space into the inside of a jail cell. The song and dance numbers are highly entertaining and nicely choreographed, and include some local, original music from all-round entertainer Liam Hagan, as his song 'Mummy Works Nights' is belted out by Dwayne in a bittersweet rendition, when we consider how his mother might have been employed.
All in all, it's a well-written play, with a solid structure and characters. You'll have a good time and plenty laughs if you go along, but you'll have to buy tickets quick as great Detour shows like this often sell out.
The season runs until March 24. For more info, visit www.detour.co.nz.
More on SunLive...