Spreading the word from a skateboard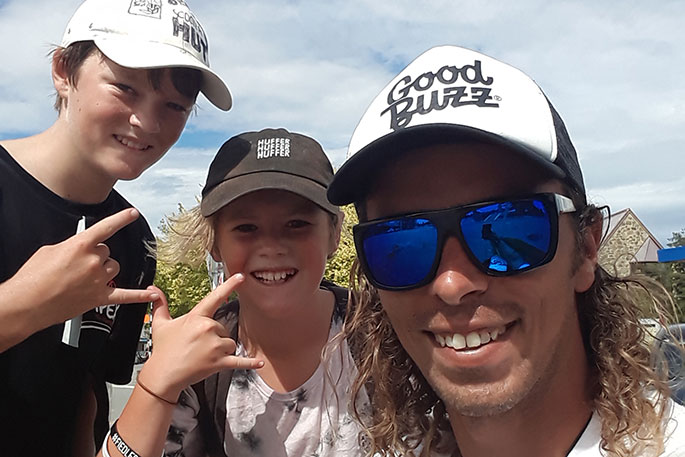 The body is a bit knackered, the feet badly blistered - and he's got a head cold.
Otherwise, Blair Benefield is in peak health and great spirits compared to the severe depression, substance abuse, anxiety and post-traumatic stress disorder that "black-dogged" the man just a few months ago.
Blair is now one-and-a-half weeks into skateboarding the length of New Zealand – doing 30 to 50 kilometres a day on a 3,000 kilometre journey to raise $150,000 for charity and also raise awareness and understanding of mental health.
"I've pulled up for a couple of days to let the feet dry out," says the 32-year-old Mount Maunganui landscaper, speaking to The Weekend Sun from the depths of his sickbed in Queenstown. "It's been so hot and sweaty."
He's been banging into gnarly weather and head winds on the first 482 kilometres of his skateboard crusade – but nothing a few years in the army and a stint outside the wire in Afghanistan hadn't prepared him for.
But there is one thing that has unsettled him, and he's had time to ponder it while laid up in Queenstown. "Mothers," says Blair. "Mothers who've lost sons to suicide, and mothers who're in fear for their sons, who're worried about their sons."
Since he started his trip, since the wave of publicity rolled up the country, mothers have been messaging him. "It's really opened my eyes. I didn't know the extent of the problem. There's a huge catchment of mothers who are struggling with the issue. They don't know what to do. That's the most common message emerging and it's scary."
The mothers are asking Blair how he handled his demons - how and where he got help. He tells them his breakthrough moment was when he found purpose again – a goal, a challenge. In his case, via the skateboard pilgrimage, he's hoofing his way back to health.
"Each day I set myself little goals," he says. "On the road I tell myself I have to get to the end of this straight, or I have to get to this or that town tonight, then I get a rest reward."
And by achieving his little goals, he knows he can achieve his ultimate goal.
"I don't pretend to have all the answers," says Blair. He's a young man feeling the weight of responsibility. "But I try to steer them in the right direction to the right people." He also has his own questions. "Do we need a support network for these people who think they're alone with their problems?"
Some of the weight was lifted earlier this week when he just happened to bump into comedian and mental health educator Mike King. He was in town with his "I am Hope Tour", aimed at demystifying youth suicide and helping communities connect with struggling youths.
"I had a long chat with Mike and shared a lot of thoughts. He was inspirational."
Blair Benefield will hit the road again soon, comforted that King has provided him with answers to many of the questions. "One of those answers is the app MyRivr –where people can get advice on addiction, depression and anxiety and the like. It directs you to the support networks for each."
People have been considerate, caring and compassionate as Blair chews up the ks. Motorists have stopped him for a chat on SH1, they have offered him fruit and donated to his cause. "Six thousand dollars so far," says Blair. When he stopped off for a drink at a cafe between Alexandra and Clyde, the chef recognised him, and told him to choose whatever he liked off the menu, on the house.
And when he rolled into Roxburgh late in the evening looking for "cheap accommodation", the woman in the cafe fed him, again on the house, and then put a message out on the local online noticeboard. Within minutes he had a warm bed for the night.
"Every day is an amazing experience," he says, "and every day new people message to say what a great thing is happening." And for a young man that, not so long ago, was in the deepest, darkest place imaginable, a place that almost killed him, this road trip, this "great thing happening" is both healing and heartening.
By now, Blair Benefield's head will have cleared, he will be back on the skateboard and "hauling his arse" towards the West Coast to spread the message.
More on SunLive...