Sorting Tauranga's glass recycling issue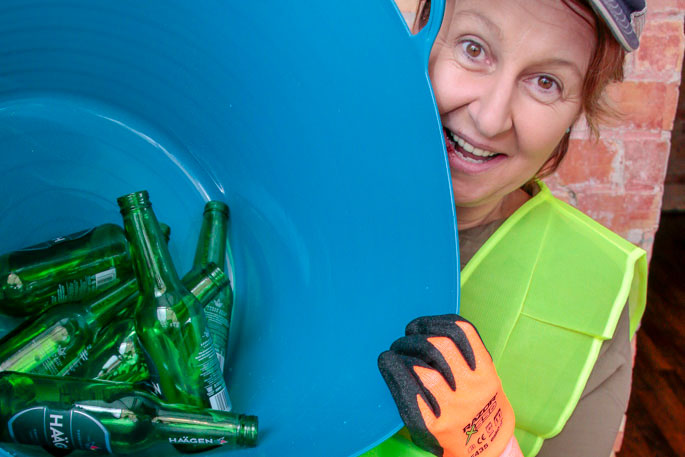 A Tauranga woman has come up with a solution to help with Tauranga's glass recycling issues.
Annmarie Lawler is the woman behind Class Glass, a new kerbside recycling service which collects glass recycling.
The new service is a response to Waste Management's decision to cease its kerbside glass collection in Tauranga.
"Collection companies have stopped collecting glass," says Annmarie. "The reason is because Waste Management have a problem around safety. Staff are getting cut and safety regulations in NZ mean they've got to look after their staff.
"We have to wear dust masks because we might breathe in the glass dust. So I understand that's the reason they're not collecting glass anymore, but the contractors haven't solved the problem. They've just said they're not going to collect the glass.
"This means public are left with glass not knowing where to take it. The Council solution is that they will have collection points outside schools but we're not exactly going to say to little Johnny 'here's your lunch, and here's the empty beer bottles to take to school.'"
Her new service means residents must sort glass out based on its colour.
"If you separate glass into the different colour streams; for example collecting green separately from clear, and from brown, then nobody gets cut. It gets put on a trailer, and the trailer gets tipped.
"It's easy to collect the different colour streams. If customers separate the glass then it's easy to pick it up and nobody gets cut. Nobody gets hurt.
"There's no other contractor offering this service as far as I know. It's easy to jump on the website, buy a box, $3 a box, no bigger than 42 litres, single colour."
Annmarie says she started the website four days ago, and it's already had 10,000 hits.
Her arrangement with both Tauranga Transfer Station and insurance companies, means that Kerbside Recycling Services staff will not touch the glass, only the boxes. If there is the wrong colour glass in the box, then the box won't be collected. The box is collected, emptied and returned.
In addition the website provides a colour sorting guide.
"There's a lot of discussion about this on Facebook," says Annmarie. "Lots of people have been talking about it over the last couple of weeks.
"Too many people are saying 'let's just put our bottles into landfill' and that includes me. But I was like 'why?' because glass is infinitely recyclable.
"I started the page because I felt there was a need to offer a service that wasn't being provided anywhere else. I felt like $3 a box was affordable. The boxes are no bigger than 42 litres because we've got to look after the health and safety of staff."
Annmarie has also met with six Tauranga City Councillors at a city café.
The invitation was offered by Councillor Rick Curach who invited Annmarie to meet him, and other councillors over lunch.
They quizzed her on her idea, which Annmarie sees as a viable business idea.
"It's a choice. A lot of people are complaining about the cost. But also a lot of people would rather spend their time on the beach. Doing their own thing on the weekend instead of running to the tip."
She says she's attending the council meeting this afternoon to hear the discussion.
"There's some pressure on the Council to talk about their rates-funded waste collection system. It's not going to be user-pays in their area anymore. So I'm going to go see what happens."
For more information on Annmarie's glass recycling initiative, visit the Kerbsite Glass website or see their page on Facebook.
More on SunLive...