Cyclone Hola: What NZ needs to know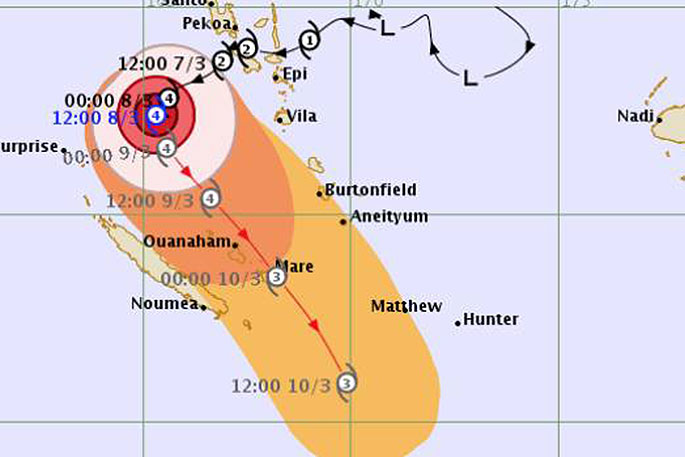 There's a "significant probability" the remnants of Tropical Cyclone Hola will sweep over New Zealand on Monday - the third major storm to hit the country this year.
So what do we need to know?
About 5am Friday MetService meteorologist Stephen Glassey said Tropical Cyclone Hola remained at category 4 strength, sitting between Vanuatu and New Caledonia.
An update from the Fiji Meteorological Service about 3.15am (NZT) said maximum 10-minute average winds near the centre were estimated near 170 kilometres an hour.
Hola was still intensifying but the latest map of its forecast track, published about 2.45am, no longer showed it increasing to Category 5 strength.
It had been moving in a west southwest direction, but MetService expected it to start curving toward the southeast during Friday.
Where will it hit?
Latest forecasts indicated Hola would start tracking to the southeast on Friday.
"There's still a fair amount of difference in the (forecast) models but indications are that it will make a southeast track, near northeastern parts of the North Island," Glassey says, "but it could track a bit further west over the upper North Island, or it could just track down the northeast areas.
"It's still a bit early to say the impacts".
The areas most likely to be affected were Northland, Coromandel Peninsula, Bay of Plenty and Gisborne.
How powerful will it be?
That is not known yet, as some forecasts say it will gain strength in the coming days. But MetService says it would bring a short spell of wind, rain and larger swells, with possible severe weather in places.
The storm had recorded sustained winds of 170kmh and gusts of 230kmh.
In the tropics the strongest winds and heaviest rain were close to the centre of a cyclone, but once it moved toward New Zealand the strongest wind and heaviest rain started to move away from the centre.
"So it doesn't actually matter as much where the centre of the cyclone is any more once it gets toward New Zealand. We can still get strong winds, severe weather, heavy rain even if the centre of the cyclone misses us," Glassey says.
"Regardless of whether the cyclone moves over us, or just misses us, I think we can still expect some severe weather. It's just a bit early to say what those impacts will be and how bad."
Why are we seeing so many cyclones?

This is the third cyclone to venture towards New Zealand since February.
Niwa meteorologist Seth Carrier said this is unusual, and it's caused by the "perfect storm of weather features" this year.
They've dragged the weather masses from the subtropics and the tropics towards New Zealand.
In an average November to April tropical cyclone season, Carrier says one or two ex-tropical cyclones typically passed within 550 kilometres of Auckland.

He says the "increased frequency" of former tropical cyclones reaching New Zealand this year so far had been unusual.
MetService meteorologist Brian Mercer doesn't find the frequency of ex-cyclones that unusual.
"It's very hard to say 'normal' when discussing tropical cyclones because they're quite difficult to forecast for," he says.
- Stuff
More on SunLive...