A call out for new recruits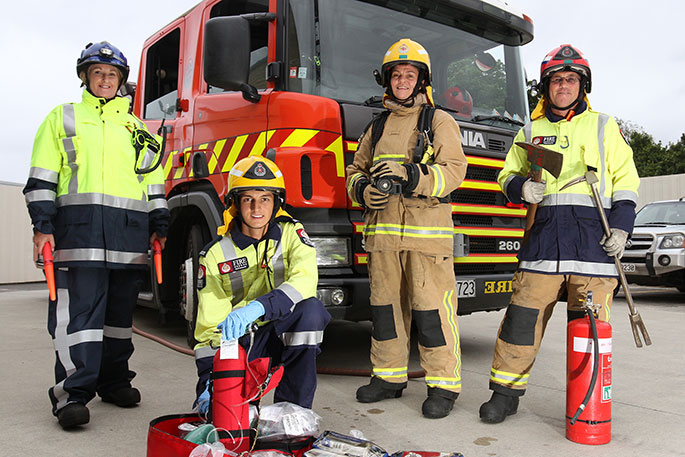 Not everyone has what it takes to be a volunteer fire fighter - but there are more than 8000 Kiwis who do.
It's dangerous, challenging and boundary pushing. It takes strength, commitment, character, heart and a desire to make a difference - you need to be made of the right stuff - but the rewards are immense.
That's why Tauranga Fire Brigade is hosting a recruitment day this weekend at Chapel St Shopping centre.
They're looking for new recruits - to be operational fire fighters or operational support volunteers.
"This is no nine to five commitment - when you are on call, you have to be ready to respond at the drop of a hat - and ready to tackle whatever challenge you may be about to face," says Tauranga fire station officer Jeff Francis.
"It's not just about putting out fires - in the modern fire service, calls can be to any number of incidents from medical emergencies and flooding to motor vehicle accidents and chemical spills. But you will be prepared.
"Training is comprehensive - once a week on a Tuesday evening - with the opportunity for further, more intensive instruction as your skill base and confidence increase.
"You'll be supported in your learning and brought into the fire fighters' team environment. You will learn how to trust and depend on others and they will need to be able to trust and depend on you.
"Today's volunteer fire fighters come from all kinds of backgrounds and bring with them all kinds of skills. Some go on to have full time careers with Fire and Emergency New Zealand."
In 2017 Tauranga's volunteers attended 331 call outs, an average of five-six per week, says Jeff.
"Volunteer fire fighters must live within Tauranga City centre and its surrounding suburbs - as a guideline, within four kilometres of Tauranga Fire Station.
"Residential requirements for operation support volunteers - who support fire fighters at incidents - are slightly more flexible."
Volunteer fire fighters from Tauranga will be at Chapel St Shopping Centre from 9am to noon on Saturday March 10.
This is a chance to talk to fire fighters about what they do, find out about the equipment used, try it out and see if you have what it takes to step forward and volunteer.
More on SunLive...