$1500 a week to deter bad behaviour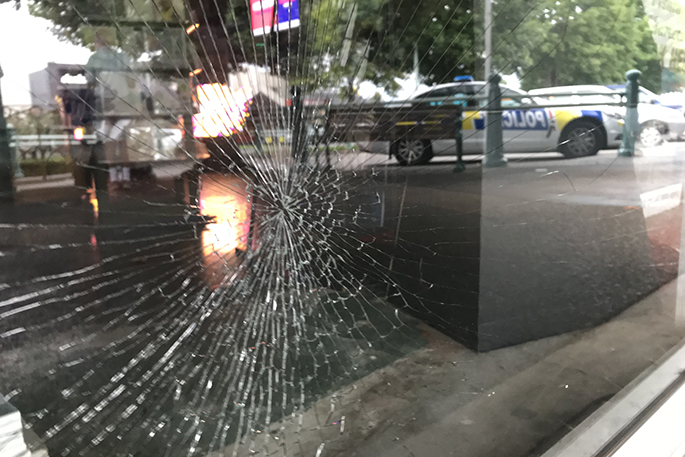 Tauranga City Council is spending 'just under' $1500 per week on a security officer to patrol Greerton, after shop windows in the village area were smashed during a fight between homeless people last month.
Community development manager Meagan Holmes says the officer patrols from 10am to 5.30pm, Monday to Saturday.
She recommends if people feel that a person begging has shown intent to threaten, alarm, insult or offend, they should call the police on 111.
Greerton Mainstreet manager Sally Benning says the situation has improved since the security guard started patrolling, but says it's only a short-term response.
"We've been working with the police and the council for a long time."
She says the beggars in Greerton move around, and can be found in the CBD, the Mount, and even Te Puke.
"I personally haven't seen them, but people are being dropped off in cars. Police are aware of that and have registration numbers of vehicles."
She says current bylaws mean police have very little power at the moment to deal with some of the issues, but she acknowledges the council is working on a bylaw review.
"The current thinking is that as long as the beggars are being given money, there's no reason for them to go away.
"Hopefully at some point there will be a solution."
Meagan says elected members have asked council staff to bring forward the review of the Street Use and Public Places bylaw to 2018, to seek community feedback on whether the city should prohibit rough sleeping and begging in Tauranga.
"Pre-engagement is currently underway with the community."
She also says the Ministry of Social Development has announced funding will be given to set up a Housing First initiative in Tauranga.
"Housing First prioritises finding people safe, secure and permanent housing first, and then wrapping around the services needed to help people sustain their tenancies, support their health and wellbeing and return to independent living and participating in community life.
"The People's Project, which has been very successful in ending homelessness for rough sleepers in Hamilton, will deliver the Housing First Initiative in Tauranga. The People's Project Tauranga is aiming to be open and operating in early April 2018.
"Any change to the Street Use and Public Places bylaw is proposed to happen in conjunction with the roll out of the Housing First initiative so that there are support services in place to assist those who would otherwise be sleeping rough."
More on SunLive...