In the running for free Europe trip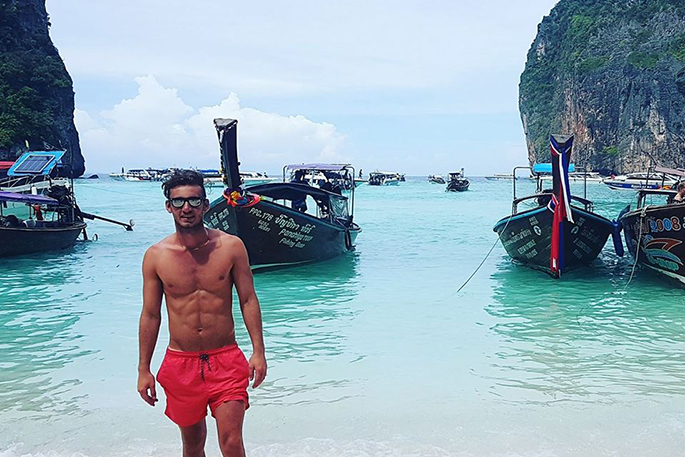 A Papamoa man is one of two finalists vying for a place on a free trip to Europe with Contiki.
Dean Styles is up for the 'wild card' entry in 'Contiki Squad 2.0', a group of five New Zealanders who will get to take part in a free Contiki tour of Europe, with flights included.
Dean, who went on a Contiki tour last year, saw the competition on Facebook and decided to enter.
"You've got to be in it to win it," he says. "There was a competition for the first four places that I wasn't involved in. But then there was the wild card spot, and all you had to do was find one of the Contiki billstickers around the country and take a photo in front of it. Fortunately my cheeky one was chosen as a finalist."
Now the former Tauranga Boys' College student is up against one other person on the Contiki Squad Facebook page.
There's a post with both of their photos, and the public are invited to vote for who they think should win the final spot, either by leaving a 'HAHA' reaction for Dean, or a 'WOW' reaction for the other person.
Travel Corporation marketing and communications director Tony Laskey says it's the second time they've run the competition.
"We're looking for the 'ultimate' squad of five people to travel to Europe together. When we ran it at the end of 2016 we got five people who had never met before, who were voted onto the squad by members of the public on social media."
This year 14 finalists made videos showcasing what they would do to win a Contiki trip to Europe, with the final four chosen by the public.
"This time we're doing a wild card round for the fifth member," says Tony. "We looked at all the entries, and most of them were just people standing in front of the billsticker. But there were people who had put in some time and effort to be creative, and that's how we got our two finalists."
The free trip is the 'European Magic' package, which is a nine-day Contiki around Western Europe, stopping at cities like Amsterdam, Munich, Venice, and Paris.
To vote for Dean, visit www.facebook.com/contikisquad/ and leave a 'HAHA' reaction on the post with his photo. Voting closes at 4pm on Wednesday, with the squad announced at the end of the week.
More on SunLive...