School's in for the class of '45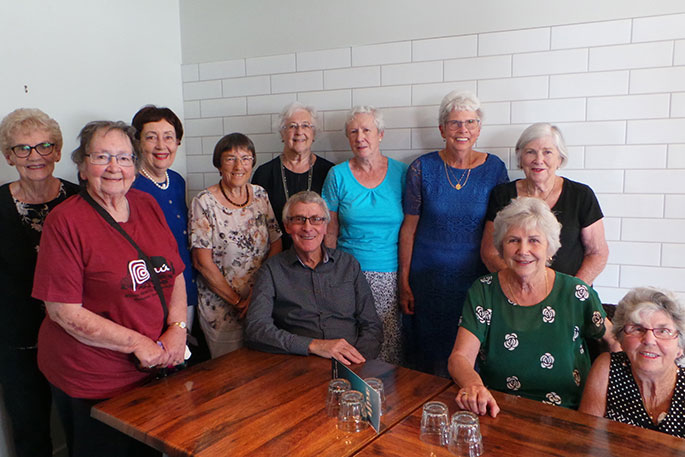 It was 1945. Adolf Hitler had ended it all in a Berlin bunker.
Also in '45, and half a world away, Ross Haycock was just starting it all.
His Mum dropped him off at the gate of Tauranga Primary for his first school day. She cried and Ross didn't understand the fuss.
"White bread and butter sandwiches for lunch," says Ross. "It was 1945 after all."
That year a new house cost $4600, the average wage was $2400 a year and a slightly precocious 5-year-old Margaret McClymont in her panama hat, blue and white smocked dress and pink cardy showed off to her father's flash 8mm movie camera in the playground at Tauranga Primary.
Seventy-three years later Margaret hides her head in her hands. "Oh my God, stop it". And as the jerky black and white film plays on the wall of The Boardroom at The Raft – the eatery on Chapel Street – everyone's keen to catch a flickering image of themselves.
It's a reunion of primer one, 1945, Miss Taylor's class at Tauranga Primary. About 30 78-year-olds.They've been catching up every year for years. "Just saw Murray Davies, he's passed away", "Anyone know the blond showing off", "There's Dulcie again – she's in every shot with Margaret. You can tell whose father was taking the pictures."
The difference now is the boys, the blokes, have been invited along. It wasn't always like that. Two years ago at the very same reunion, The Weekend Sun was told it was a girls' thing "because girls have more fun."
"More to the point," jokes a primer one girl at the time, "the boys are either bald, boring or dead." But the half dozen boys/blokes present are all well-thatched, enjoy a yarn and have a pulse. "That's just Anne – she's a character."
They talk about school in 1945 when there were crates of milk, warm from the sun and nearly on the turn. Dulcie can remember apples as well as milk. And as the 8mm movie shows, all the mums wore hats when they arrived to take their wee poppets home. Very formal in those days.
"It's just fantastic that 73 years after the event we can all sit around and chat old times," says Ross. He remembers primer one fondly, especially Miss Taylor, and he enjoyed school so much that he became a teacher. "But as anyone in the industry will tell you, it's not well paid so I joined the computer industry."
Ross is swapping yarns with Bill Coster. They have things to talk about because they haven't seen each other for 60 years. "Bill's a farmer up in the Kaimai Ranges. You can tell by his tan and healthy good looks."
Bill's a man of few words and can remember Ross's name rather than the face. "Ross was probably a nice little boy." They were probably all nice little boys, Bill included.
Ngaire Gould was in Miss Taylor's class of '45 – sister of Bryan, the Rhodes Scholar, diplomat, TV journalist, politician and Vice-Chancellor of Waikato University. She's here.
David Hardwick's here too, son of Daisy, the renowned horticulturist whose signature is all over Tauranga plots and gardens, and reserves like Yatton Park. And of course the famous Daisy Hardwick commemorative walking, cycling and running track.
Daisy's green fingers skipped a generation. "My level of horticultural expertise is mowing a lawn." David left town 45 years ago and came back especially to catch up with the rest of the primer ones.
"I'm sitting next to Elizabeth whose maiden name was Mountford. They once owned Tauranga's biggest garden centre. My mother Daisy would go there and advise the Mountfords and their clients."
It's a small world. But that was back in '45 when Tauranga was little more than a fishing village with a population of 4700. The bell will once again ring for the 1945 primer one class at Tauranga Primary next year.
More on SunLive...