What's on Today? Barefoot bowls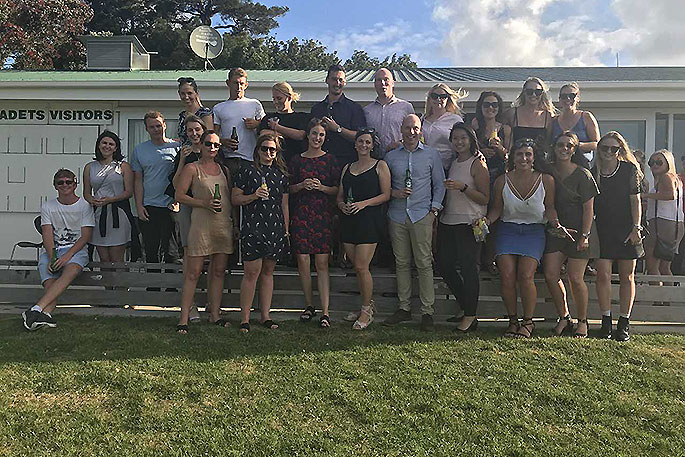 Morning Sunners, and welcome to Saturday! If you're anything like most of us you're probably sitting there thinking "how is it already the first weekend of March?!" January lasted three minutes, and I'm pretty sure we entirely skipped February… Nevertheless here we are to celebrate the new month!
While the "last weekend of summer" may have been last week, there's still plenty of activities out and about.
Barefoot Bowls is one of many events happening around the city, at the Tauranga Bowls Club.
Event organiser Ash Gee says the event is one of many hosted by Initiate, a networking group which hopes to connect like-minded people with one another.
"I'm from Taranaki and used to live in Brisbane for a time. While I lived there I used to host Barefoot Bowls tournaments, we'd get minimum 200 people at these. I thought I'd give it a go here.
"It's going to be huge more than 140 people are going to playing on today. We're hoping to make it an annual event."
The rules of the game are as simple as its title makes it out to be.
"This is social bowls, you don't need fancy shoes, and in fact we encourage people not to wear any at all. It's just like lawn bowls but it's fun and casual.
"We've encouraged people to dress up in team uniforms too."
Initiate, which is run by Ash and two others, was formed early last year.
"It's based on helping people initiate that first chat, or initiating meeting people or connecting with different business networks.
"We host networking drinks, encourage business relationships but on the other side of it we also have people who come along who don't have a job and may have just moved here but want to meet other people.
"We've gone from having 50 people at our events to more than 200."
She says due to the popularity of the event there are no more spaces for teams, however all are welcome to attend the after party at Crown and Badger, which has free entry.
If Barefoot Bowls isn't your cup of tea, than how about heading along to any other of the many events happening around the city.
Check out the details below for What's On this Saturday.
Saturday 3 March
Art in the Park Coronation Park, Maunganui Rd, Mt Maunganui. (Opp Burger King). Weather permitting. 9am-4pm by Tauranga Society of Artists
Balmoral Kilties Marching Team We welcome ladies to join our fabulous sport. Ages 30-60. No experience required. Ph Anita 07 578 8996 or 0210 257 6094 evenings
Bay Network Singles Club Social activities 55+ Dining, BBQs, outings. Phone Maureen 021 112 3307 or Jonathn 572 2091
Be In To Win Kids Hunting Fishing Comp 16th-18th March. Ph Nathan 027 305 2328 or nathanxlb@gmail.com
Cards Interested in 500? Flexible evenings to suit. Ideal for central Tauranga & Mount residents. Ph Chris 572 3834
Death Cafe Coffee, cake with group directed conversation on dying, death & living. Today at Grindz Cafe 1-3pm taurangadeathcafe@gmail.com. Ph Carole 022 068 9183
KValley Adventure Race Fundraiser 3rd Mar 12:30-4pm. Think scavenger hunt, mountain biking, map reading & puzzle solving, by bike! Rotary Tauranga Sunrise supporting Graham Dingle Foundation. https://www.eventspronto.co.nz/kvalley
LOL Laughter Wellness Keep well on LAUGHTER - the best medicine ever. 11:00-11:45am Arataki Community Centre, Zambuk Way, Mt Maunganui. Koha. Ph Trish 022 036 6768 Email lollaughterwellness@gmail.com
Narcotics Anonymous Open meeting, 7:30-8:30pm, Hanmer Clinic (behind Super Liquor), 1235 Cameron Rd, Greerton
Nemesh Exhibition & Workshops "Gennie Collection" Exhibition by NEMESH: 2 Feb-1 Mar. Opening & Art Demo: 2 Feb, 5-7pm. Oil Workshops: 3-4-5 Feb, 11am-5pm. Contact: theartoungenz@gmail.com
Otumoetai Tennis Club Saturday adult tennis 1:30pm start. Bellevue Park. Windsor Road. New players welcome. Coaching available. Ph Fred 544 5088
Sunshine Sequence Dance Group Tea Dance Saturday, Mar 31. Baptist Church Hall, 13th Avenue. 5-9pm. $5pp. BYO food, plates, cutlery, non alcoholic drinks. Jan 544 4379
Taumarunui High School 100 100 Year Reunion 2-4 March www.ths100reunion.com PO Box 216, Taumarunui 3946. i-Site 07 895 7494 See: websites; Fb, to reminisce & RSVP. Athletic Sports Centre, Turaki St; High School, Golf Rd.
Tauranga Rotary Easter Book-Sale Drop books off at Caltex Greerton, Bayfair, Welcome Bay, Katikati, Z Bethlehem, Hewletts Rd, 11th Ave, BP TePuna, Philips Garage, Wet & Forget, BP TePuna, Mike Dean Omokoroa
Te Puke Menz Shed Mondays, Wednesdays & Saturdays @ 9am at 86B No. 3 Road Te Puke. New members welcome. Ph 573 8655 or 573 5971
More on SunLive...