See, think and build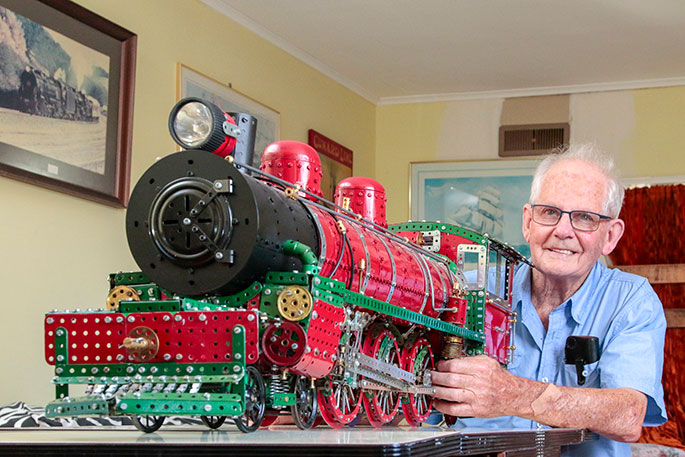 Dave Shand never got to meet Frank Hornby. Shame, because they would have had a lot to talk about and a lot in common – strips, plates, angle girders, wheels, axles, nuts, bolts and grub screws.
Frank was a Pom, a Scouser, and a businessman and politician. He was also a visionary with toys.
Kiwis didn't know the man, but they certainly knew his business. He invented the Hornby model train and Meccano – the reusable, metal, model construction system.
Meccano helped make Frank a multi-millionaire. And Dave Shand of Welcome Bay, in his own small way, also helped make Frank a multi-millionaire. "I got my first Meccano set in 1937 when I was about five," says Dave.
It cost about 10 bob – fifty cents in real today money. He's been spending money on Meccano ever since.
Four score years later – he's on the brink of 85 – Dave has accumulated four cabinets, or about forty drawers of Meccano, all carefully labelled. They're chock-a-block with metal bits and bobs to make stuff with.
Dave Shand never grew out of Meccano. In fact he grew increasingly into it – to the point where he now spends more than six hours a day tinkering with Meccano. Red Meccano, green Meccano, yellow Meccano – out there in his Meccano man-cave in the backyard. But it's still not enough.
"I've got more on order," he reveals. "There's more on the way." The problem being, as soon as Dave starts building something, there's something he needs that he hasn't got.
If Meccano was a tonic, then doctors would prescribe it. "It keeps a man young and your mind occupied," says Dave, sharp, energetic and enthusiastic. "I couldn't sit around in a chair all day. I have to be doing something, making something."
And Meccano, he says, keeps him out of mischief. It also keeps him out in his shed in the backyard. "My wife doesn't mind. She has her own interests. She's into numismatics." You know, coins, banknotes and medals.
"If you are mechanically minded then Meccano is perfect," says Dave. "You will see something in a book and you want to build it, if only to see if you can do it."
Something like the Titan block setting crane, the biggest and most complex of the Meccano model designs – a special engineering challenge in both full scale and model terms. Frank Hornby was fixated with cranes and trains. Dave also became fixated and built one.
"It was huge - massive," says Dave. It featured on the Meccano boxes and in their magazines. "Yet the largest Meccano set, a number 10, wasn't large enough to build it. You had to get a lot more stuff."
The block setting crane seemed like a cheeky marketing ploy. "Separate motors for lifting and rotating, complex gearing systems."
There was the grandfather clock. "It worked but kept wanting to stop all the time." It worked and it didn't work. "It was so finicky that atmosphere would effect it, the balance was easily upset and the pendulum would stop going." So the clock was cannibalised for another project.
There's his AB locomotive – of behemoth, block setting crane proportions, perhaps a metre-and-a-half long. "Mmm – took weeks, months." The big red and green beast is perhaps a keeper.
Dave's explaining the gearing system in a tractor he built. "The actual gear has a square cut in it. The boss of another gear goes into that square and revolves on a bolt which is on the boss of the first gear. It compacts a differential – makes a diff, but in a very confined space." Qué?
That's why Dave needed a meaningful Meccano chat with Frank Hornby - or some other like-minded Meccano soul. There are just four Meccano buffs in a city of 124,000 people – four that Dave knows of. There's another three in Matamata, one in Putaruru and another in Paeroa.
"There must be others in Tauranga," says Dave. "And we need them in our group." The group of just four is not a club, just an informal gathering which catches up, drinks tea, have barbecues and talks Meccano.
"Anyone with an interest, anyone mechanically minded, especially younger guys with their modern Meccano sets, can get in touch." Dave will be standing by his phone. He would love to hear from you.
And who mentioned Lego? Lego is a dirty word in the Meccano cave, and Dave curls his lip at the mention of the interlocking plastic bricks from Denmark. But aren't they the new Meccano, aren't they in every house, under every couch?
"It's just so easy to pop the bits together, it doesn't have the mechanical adaptions," says Dave in defence of Meccano, which has absorbed him for a good Titan block setting crane-sized chunk of his existence.
"You can make anything with Meccano, there's nothing you can't do. You would have to glue the Lego together to do some things. With Meccano you bolt things together." And that, apparently, is much more satisfying.
"You can pull things together, use your hands, think things out, make it, then take it to bits and build something else."
Now this is an interesting blokey Meccano factoid. Dave has perhaps the most dangerous piece ever produced by Meccano – "It's a collectors piece – oh yeah."
It is a miniature circular saw blade, a sharp working one. He can build a 'Lilliputian" sized saw bench on which the blade slices through balsa wood. We suspect that blade might be in violation of the modern toy product safety standards.
There are also the windmill blades in the original number five antique oak pre-war case. And the digger bucket from the 1935 'L' set. "That's a pretty special collectors' item too."
Then there was the Meccano Magazine – published from 1916 to 1981. It was originally a manual for Meccano builders, but evolved into a hobby magazine for boys of all age. There's an 85-year old boy in Welcome Bay with a stack of them.
Meccano is all about imagination, says Dave Shand. "You see something, it fascinates you and so you go home and make it." As the box says – "the thrill of build it yourself."
Dave Shand just needs some more blokes to share the thrill with. Call him on: 07 544 1353.
More on SunLive...