'Let's do this' condoms for students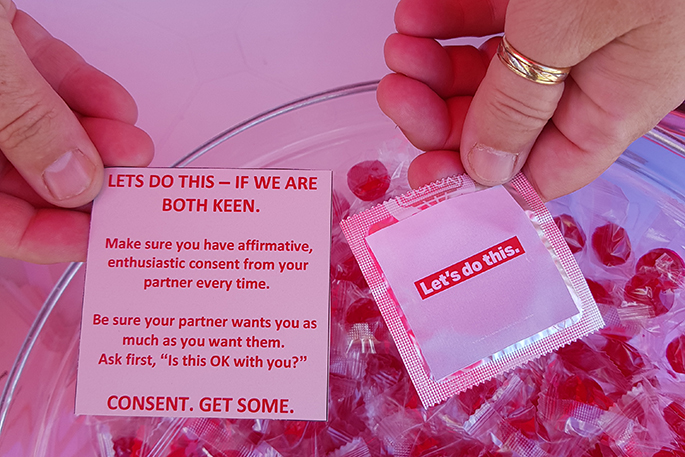 Labour MPs Angie Warren-Clark and Jan Tinetti helped Toi Ohomai Institute of Technology kick off 'O' Week by joining the Young Labour stall on Toi Ohomai's Windermere campus from Monday.
Angie and Jan spent time talking with students about their study and first few days on campus.
A number of students thanked Angie and Jan for Labour introducing the fees free scheme, which allows students to launch their time in tertiary education without the burden of an excessive student loan.
Along with some bright red k-bars, a little latex giveaway on the Young Labour stall which caused equal embarrassment and laughter from students, was a bowl full of condoms branded with Labour's 2017 campaign slogan, 'Let's do this'.
The Durex condoms were handed out by Tauranga and Bay of Plenty Young Labour members, emblazoned with the election slogan coined by Prime Minister Jacinda Ardern.
While humorous, there was also a serious message to go along with the branded condoms being given away.
With every condom given away, a card designed by Young Labour with information about consent was also given.
Talking about the consent card, Young Labour member Sherri Atkins says, "Well, I think it's all about having a bit of fun while also demonstrating what's important to us in a more overt way than just talking about it.
"Making sure students are happy, comfortable, safe and prepared for everything uni life might throw at them is something we should all be aiming for, especially in those first few weeks when everything is new and it can be a bit vulnerable.
"It's been a great way to spark conversations with students about the other things we care about within Young Labour and have a laugh too, and even if people are only taking one to show their friends, at least they're enjoying themselves and spreading the word."
Toi Ohomai 'O' Week continues next week at their Bongard campus.
More on SunLive...