Mount leads in Under-14 lifeguard champs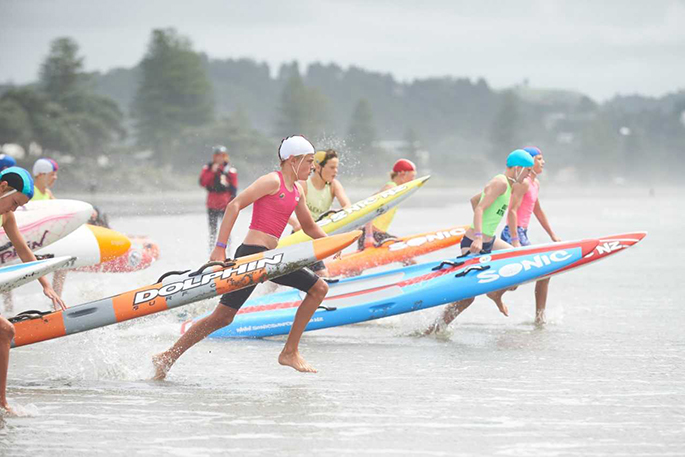 Mount Maunganui Lifeguard Service has taken the early lead after day one of the Under-14 New Zealand Surf Life Saving Championships.
The club, with 44 athletes, managed to get the lead in the national competition by taking key results in the Under-13 Men's Run Swim Run, Under-12 Men's Beach Flats, Under-11 Men's Run Swim Run and Under-14 Women's Run Swim Run races, among other strong results.
Whakatane Surf Life Saving Club finished the day in second, only two points behind their rivals, and with three days left to go, they're vowing to fight hard to take the lead themselves despite having half the number of athletes as Mt Maunganui.
Rounding out the podium in third equal was Lyall Bay Surf Life Saving Club and Omanu Surf Life Saving Club who both finished with 12 points, only one point behind Whakatane meaning the battle will intensify over the coming days.
Event manager Scott Bicknell says it was a challenging first day of the annual carnival but the feedback from athletes has been overwhelmingly positive.
"The weather made things tricky all day but despite that, everyone has really enjoyed themselves. The racing has been fantastic and everyone is really looking forward to tomorrow."
"It's also been great to see the lead change throughout the day, and that just shows how competitive Oceans 18 is. Tomorrow will be an interesting day for sure."
Oceans 18 continues tomorrow from 8am at Orewa Beach.
More on SunLive...