Elegant pop-up picnic returns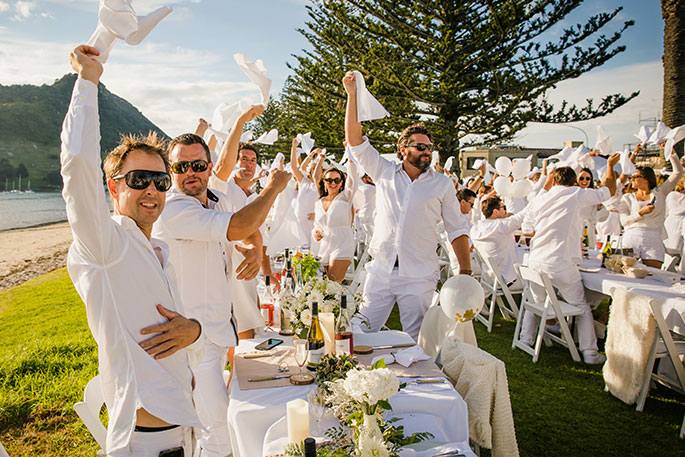 If you don't mind taking your own table and chairs to dinner, and fancy a little mystery and elegance in your life you might want to grab a ticket to Tauranga's Le Diner en Blanc on Saturday, March 10.
Launched nearly 30 years ago in Paris by a group of friends, Le Diner en Blanc de Paris brings more than 10,000 people together each year in some of the French capital's most prestigious sites.
Tauranga's Le Diner en Blanc was launched in 2017 with 400 people dining al fresco at Pilot Bay.
The 2018 venue is a closely-guarded secret and will be revealed only on the night.
In accordance with Le Diner en Blanc rules, diners wear all-white clothing, wave serviettes in the air to mark the start of dinner and light sparklers to mark the start of dancing.
Co-host Kimberley Cleland says the event was so popular last year up to 1000 people are expected to attend this year.
"The all-white theme comes from French high society and is all about elegance. It was also about being able to recognise each other on the streets of Paris when they were meeting."
There are six departure points around Tauranga where participants will be collected and taken to the secret location.
There are also a few rituals which make the event unique, says Kimberley.
"The first is that people bring their own tables and chairs so it's truly a pop-up event. The second is that before everyone sits down for their meal they wave serviettes en masse, and then before dancing starts later in the evening everybody lights sparklers."
Up to 1000 people are expected to attend the 2018 Le Diner en Blanc to be held at a secret location in Tauranga on March 10. Photo: Richard Robinson.
Kimberley says Le Diner en Blanc attracts a wide range of people of all ages.
"We have people from their 20s to their 70s. They are predominantly women, but the men who came along last year were the ones that enjoyed it the most. We encourage them to come along with their partners and friends.
"It's lots of fun. I think because everyone goes to so much effort to get their white outfits and bring their own table and chairs, when they get there they really settle in for an evening of good times."
Entertainment is provided on the night and you can either bring your own picnic dinner or order a hamper. All wine must be pre-purchased.
Tickets can be purchased from https://tauranga.dinerenblanc.com until Tuesday, March 6.
Participants looking for some fresh white threads for the event can head to the Little Big Markets in Coronation Park from 9am-2pm on Saturday, March 3 for a white clothing swap and sale.
More on SunLive...