People on the other side of the cones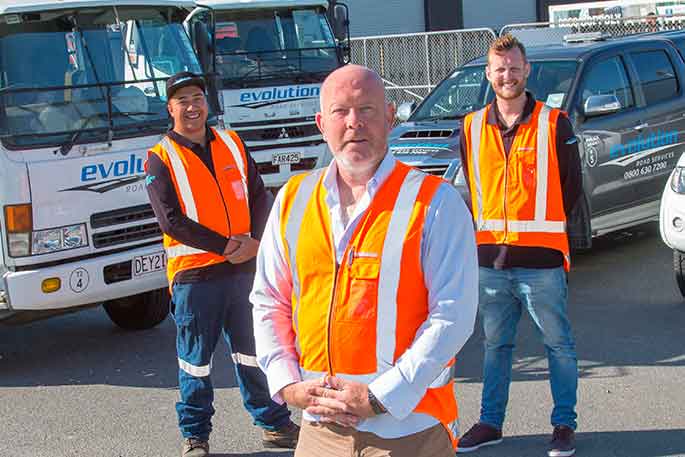 You know the men and women who operate stop/go signs? They're just ordinary people doing a job like anyone else.
That might sound obvious, but one local traffic management contractor says workers in the industry still get abuse on a daily basis.
Evolution Traffic Management manager Don O'Sullivan says there can be a lot of hate from road users towards traffic controllers (aka stop/go operators), but it's misplaced.
"People don't see what we're trying to achieve. They complain when the roads are unsafe, but they also complain when we're trying to make them safe."
Don's company has worked on several local projects, and sometimes aggression from drivers has been so bad the police have become involved.
"We were on night works and one of our traffic controllers was attacked by a passer-by, and the police were called. Someone took a dislike to one of our staff and actually parked up and came back to attack him."
Mostly the abuse is verbal, Don says – but it is rife in the industry.
"I started my career on the motorways in Auckland, and we had bottles being smashed on our trucks. We're essentially seen as a pain in ass – people don't want to stop or be held up. There are times when there are going to be a queues, and people don't like sitting in queues.
"When I was a stop-go operator I had an open dirty nappy thrown at me by a woman frustrated that she had to sit in a queue of traffic. But thankfully that's not as common."
He says stop/go operators are a skilled positon requiring a traffic control qualification.
"You have to go through a course, and there is a certain way of how you stop traffic and communicate with people, and what to do if someone refuses to stop. It's the most important job on the site."
Another sticking point for some motorists is the perception that a lot road workers seem to stand or sit around and do nothing. But Don says that's because their workplace is in full view of the public.
"We don't have a lunchroom on the side of the road to take our breaks. Sitting on the grass verge is our lunchroom," he says.
Like any job, there are times when road workers are also waiting for someone else to do something, before they can move forward with their work – a bit like waiting for a signature, or a client to call you back.
"You could be working on a road, and be at different stages of what you're trying to achieve. You could be ready to spray and chip the road, but there could be a half-hour or an hour hold up on the trucks arriving. So you could have guys waiting around for the next stage of that road repair to actually happen."
Don says people should remember that traffic management aren't responsible for road works or projects – they're just there to make sure traffic flows as smoothly and safely as possible.
"Please be patient. The job we do isn't all that pleasant in the first place. We are not there to be a nuisance – we're there to make the roads safer for you to travel through."
More on SunLive...