'O' Week starts in Tauranga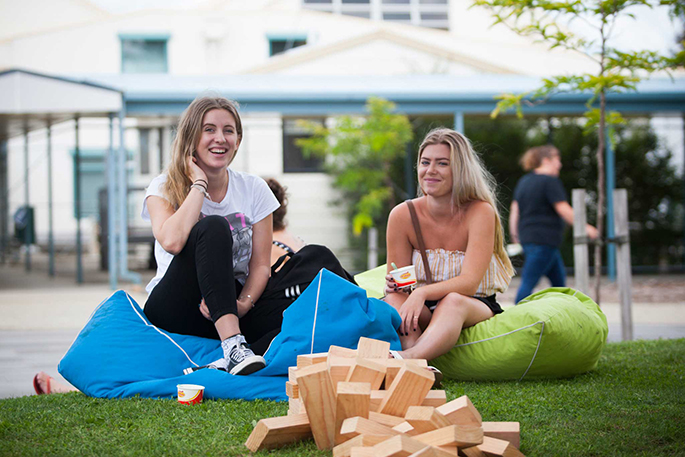 Orientation Week, or 'O' Week, has kicked off in style for Toi Ohomai Institute of Technology and University of Waikato students, as hundreds gathered at the Windermere campus to take part in the festivities.
On-campus activities include stalls, activities, giveaways, live music and free food, and this year students will enjoy the benefits of a new partnership with Downtown Tauranga meaning retail, food and drink specials in the CBD.
Toi Ohomai event organiser Brenna Roband, said the students are thoroughly enjoying themselves and the new inaugural partnership with Downtown Tauranga will help attract more students to the city.
"This week is about making new and returning students feel welcome, and ensuring they have some fun as they embark on their studies. We wanted to offer something extra this year, and hope our students take advantage of all the cheap deals they can get in the CBD for the next two weeks."
During 'O' Week students also spend time learning about the facilities available to assist them (like study and IT support) as well as undertaking fun activities to help them engage with campus life.
It's also an opportunity to connect with services like Family Planning, register to vote and learn about banking services.
"It's a holistic approach to the student experience," explains Brenna. "We want students to feel supported as well as have an enjoyable time while they study with us."
The party continues for the rest of the week as the institute rolls out 'O 'Week celebrations in nine locations across the Bay of Plenty.
"Here in Tauranga we've worked with local bars to deliver 'O' Week on Wharf Street and a Toga Party to the CBD on Thursday, March 8 – so there's plenty of fun to come yet!" says Brenna.
Tauranga-based 'O' Week events
Campus activities and stalls
Windermere
26 – 28 February
11:30 – 1:30
Bongard rooftop
5 – 6 March
11:30 – 1:30
Free movie night
Wednesday, 28 February
Event Cinemas
O'Week on Wharf Street
Friday, 2 March
6pm – 10pm
Toga Party
Thursday, 8 March
Cornerstone
More on SunLive...