Heavy rain to drift back over NZ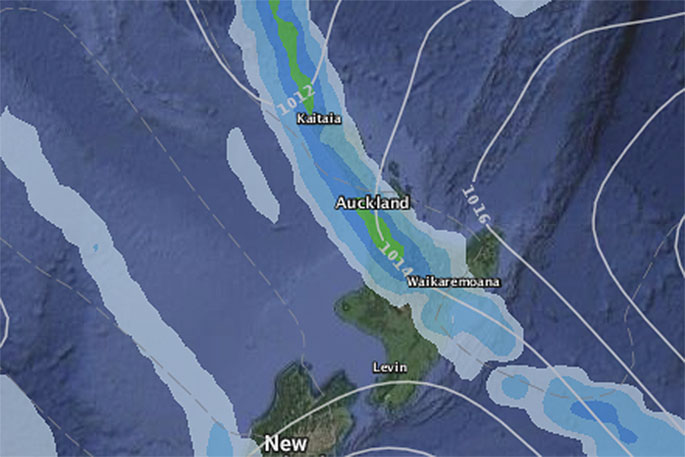 The rain band that brought flooding to isolated parts of Auckland on Sunday and saw big totals in spots around the Upper North Island will likely drift back in the coming day.
Today it's lying east of Auckland and Coromandel Peninsula mostly out at sea over the Bay of Plenty but also slides inland from Whakatane out to Gisborne.
It's expected to slowly drift back westwards and at the same time new areas of rain will form on the western side of it - forming around Northland, Auckland and Waikato as the sub-tropical weather remains, says WeatherWatch.co.nz
"With no big low or big high nearby to flush the system away the humidity, low cloud, drizzle and heavy line of downpours will continue across Tuesday and Wednesday. The heaviest downpours are isolated.
"Rainfall totals will vary significantly even within one region. As we saw in Auckland on Sunday some had flooding from intense rain while others had a mix of moderate rain and long drizzly spells."
It's fickle and narrow and hanging around northern New Zealand until the middle of the week, says the weather organisation.
"Drier weather and a slight dip in muggy conditions is possible by the end of the week - although no major airflow change is forecast for the upper half of the North Island this week."
*Please note WeatherWatch.co.nz is working with IBM and The Weather Company to bring daily forecast rainfall totals (not just the chance of rain but the likely amounts) in the near future. These forecast rainfall totals will be able to be customised to your specific location using the IBM Watson Super Computer - not just a generic total for the region or town you're in.
More on SunLive...