Azamara Journey returns for a third time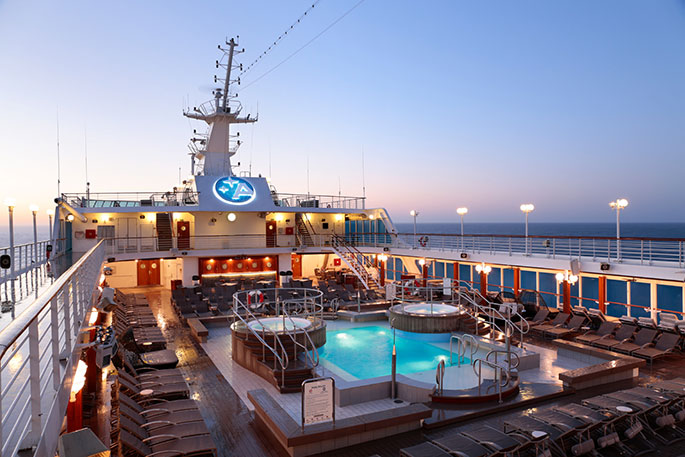 Click the image above to view slideshow
Azamara Journey will return to Tauranga on February 21, with the boutique cruise line Azamara Club Cruises' third local season expected to inject about $1.65 million into the New Zealand economy.
During the 2018 cruise season down under, Azamara Journey will offer four Australia and New Zealand cruises, including the cruise line's first ever World Journey which departs from Auckland on February 22 and concludes in London on June 17, 2018.
This remarkable cruise lets travellers explore half the world from the comfort of the boutique cruise ship, following a multimillion revitalisation in 2016 that left no public space untouched, including all staterooms.
The epic 115-day journey will call in 31 countries along the way, including Indonesia, Malaysia, Vietnam, Myanmar, Sri Lanka, Egypt, Greece, Italy, France, Spain, the Netherlands and more.
With smaller ships that are able to go to places other cruise ships can't, Azamara differentiates itself - and gains loyal fans – by making destinations the star of the show.
Its Cruise Global, Connect Local programmes encourage guests to take in the sights, sounds and flavours of local cultures in every port, while Azamara's signature AzAmazing Evening events bring guests a complimentary unique cultural experience on each cruise.
The upmarket cruise line has curated a range of brand new Country-intensive itineraries in New Zealand and around the world that consist of most, if not all ports of call within a single country.
These itineraries combine a range of popular and smaller, lesser-known ports, as well as late-night and overnight stays.
Of the four cruises offered on Azamara Journey down under this season, two will be Country-Intensive voyages, including Azamara Journey's first Australian itinerary for the season.
The second country intensive, a Kiwi focussed 13-night voyage will depart Auckland on February 22, 2018.
As part of the World Journey, and the cruise will visit the Bay of Islands, Tauranga, Napier, Wellington, Picton, Akaroa and Milford Sound, and includes three late night stays and an overnight call in both Dunedin and Sydney.
The AzAmazing Evening in New Zealand will be An Evening Symphony at St Paul's Cathedral in Wellington on February 28, 2018.
After meeting the Orchestra Wellington Musical Director, Marc Taddei in the modern cathedral, guests will enjoy performances by Orchestra Wellington, such as Tchaikovsky's 'Nutcracker Suite' and Grieg's 'Hall of the Mountain King', while also being entertained by iconic Maori songs such as 'Pokarekare Ana' and 'Poi E'.
One of the rooms on the ship.
"It's truly a pleasure to bring our guests to a range of ports, such as the Bay of Islands, Napier, Akaroa and Milford Sound, which will give international guests a wonderful experience of the diverse scenery for which New Zealand is renowned.
"With a focus on staying longer and experiencing more, this cruise provides ample time for travellers to immerse themselves in local culture, during our first ever Country Intensive cruise around New Zealand," says Adam Armstrong, managing director, Azamara Club Cruises, Australia and New Zealand.
Inside the ship.
More on SunLive...