Fine day for cruise ship passengers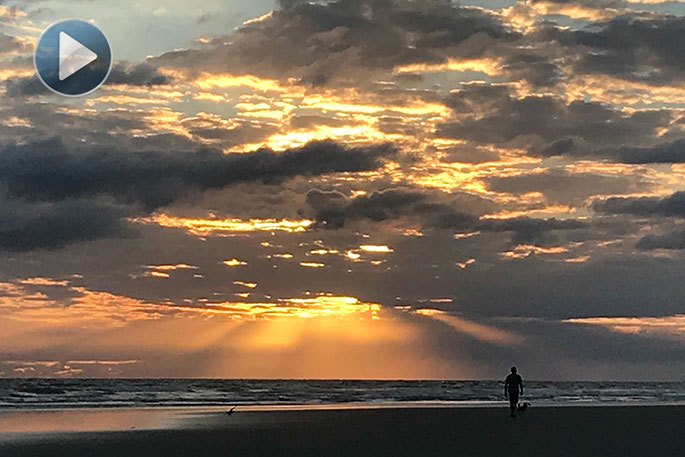 Click the image above to watch the video
Welcome to passengers from the Seabourn Encore and Seven Seas Navigator.
In today's weather forecast we are expecting a fine day with a chance of a morning shower. There may be easterlies at first, then afternoon sea breezes.
It's a one-clothing layer day today with a high of 23 and an overnight low of 17 degrees. Humidity is 74 per cent.
High tide is at 1pm and low tide at 7.20pm. Sea temperature is a 21 degrees, and there's a sea swell of .6m. Sunset is at 8.20pm.
If you're going fishing today the best fish bite time is between 6pm and 8pm.
This day in NZ history in 1863 was New Zealand's worst shipwreck. For the British it was the costliest day of the New Zealand Wars – but it occurred far from the battlefield.
Seabourn coming into port.
Bringing naval stores from Sydney, the modern 1706-ton steam corvette HMS Orpheus ran aground on the bar at the entrance to Auckland's Manukau Harbour.
Of the 259 naval officers, seamen and Royal Marines aboard, 189 died. In terms of lives lost, it remains New Zealand's worst maritime disaster.
This day in world history in 1963 the Mona Lisa was put on display at the Metropolitan Museum of Art in New York. In 1964 British band The Beatles were greeted by 25,000 fans upon their arrival in the United States at JFK Airport.
Today is the birthday of English statesman and writer Sir Thomas More, who was born in 1477, and famous for writing Utopia. He was later executed for refusing to accept Henry VIII as the head of the church.
Today is also the birthday of farm equipment manufacturer John Deere, born in 1804. And it's the birthday of Charles Dickens. A prolific English novelist, born in 1812, his stories reflected life in Victorian England.
Some of his more famous works include Oliver Twist, A Christmas Carol and A Tale of Two Cities.
A quote today from SIr Thomas More who wrote "Whoever loveth me, loveth my hound."
To check out what's on today please go to our What's on page. Have a great day!
The Seven Seas Navigator.
More on SunLive...