Big scores for Western Bay of Plenty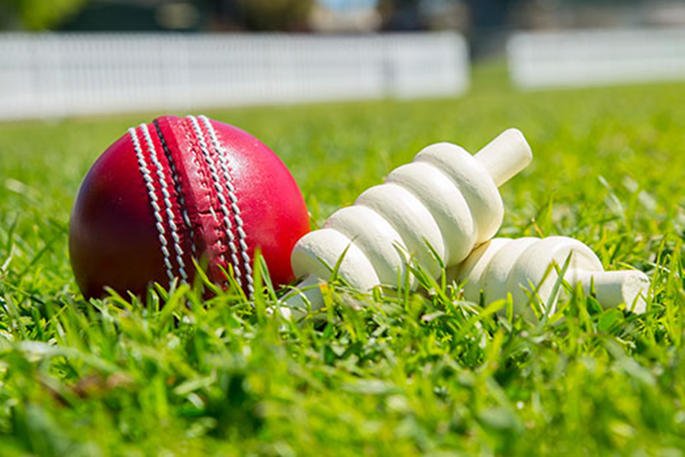 Click the image above to view slideshow
A number of big scores in Western Bay of Plenty games on Saturday saw several games continue on until the early evening, before a result was declared.
Competition joint leaders Greerton Sikh XI were involved in the highest scoring encounter against Katikati, where nearly six hundred runs were recorded.
The Greerton side batted first and posted an imposing target, reaching 325/9.
Amritpal Singh and Suraj Gupta both reached the eighties before being dismissed. Jamie Payton was the best of the Katikati bowlers with three wickets at a cost of 74 runs.
Katikati weren't fazed at the big challenge set by their opponents and blazed away and long-time Katikati all-rounder Ben Warren led the attack, before being removed for 86.
Gurwinder Singh did plenty of damage with ball grabbing three wickets, as Katikati were bowled out for 266.
Four half centuries from Sam Newbury, Parry Kumar, Ben Hunter and Lance Staiger took Te Puke through to 314 all out against Greerton and Evergreen Greerton bowler Scott Drabble was the best of his sides bowlers taking three wickets.
The Te Puke bowlers quickly grabbed the ascendancy in the match, bundling Greerton out for 113, to clam a 201 run win.
Another high scoring encounter was the match-up between Albion Singh XI and Cadets. Albion were dismissed for 278, with their opponents chasing down the requisite target with five wickets to spare.
Individual honours were awarded to Amritpal Singh who top scored for the Albion XI with 83 runs and Cadets bowler Zachary Heale taking four wickets.
Mount Maunganui also won a good tussle with Tauranga Boys College, bowling the students out for 169, then getting home with just three wickets in hand and Aquinas College returned home from the Eastern Bay of Plenty with a solid win over Whakatane United.
Cadets Punjab Warriors and Greerton posted back to back victories in the B Grade championship.
Punjab Warrior removed Wanderers for 172 before cruising to a five wicket victory. Bethlehem College were bowled out for 129 with Greerton going on to post a seven wicket win.
Albion proved too strong for Mount Maunganui after they chased down 167 to post a six wicket victory.
Grasshoppers set Tauranga Boys College a big target in their allotted forty overs, reaching 255/6, before removing the Tauranga Boys third team for 109. Richard Brown top scored for the Hoppers with a gritty 71 runs with Alex Tod returning 4/22.
Western Bay of Plenty Reserve Grade Championship Results – 3 February 2018
Tauranga Boys 169 (Blair McKenzie 4/30, Karl Friend 4/30) lost to Mount Maunganui 173/7 (Blair McKenzie 51, Blair Parlane 47)
Aquinas College 172 (Carson Wills 30, Hamandeep Singh 3/11, Tamati Stringer 3/34) defeated Whakatane United 118 (Chris Bartram 33)
Te Puke 314 (Sam Newbury 65, Parry Kumar 61, Ben Hunter 51, Lance Staiger 50, Scott Drabble 3/65) defeated Greerton 113 (Cam Riley 3/33)
Albion Singh XI 278 (Amritpal Singh 83, Suraj Gupta 62, Rambo Singh 33, Zach Heale 4/37) lost to Cadets 279/5 (Michael Forde 51no, Ollie Smythe 43, Ben Jensen 44, Campbell Wilson 31no)
Greerton Sikh XI 325/9 (Amritpal Singh 86, Gurman Singh 81, Jamie Payton 3/74) defeated Katikati 266 (Ben Warren 86, Gurwinder Singh 3/43)
Points Table (Provisional) Greerton Sikh XI 60, Mount Maunganui 45, Te Puke 45, Cadets 40, Katikati 35, Whakatane United 33, Greerton 30, Aquinas College 28, Albion Singh XI 27, Tauranga Boys College 19.
Western Bay of Plenty B Grade Championship
Wanderers 172 lost to Punjab Warriors 173/5 (Piara Brar 55no, Jasvir Dhillon 50)
Bethlehem College 129 (Harry Pettit 37no; Danny Pokai 4/19, Mike Brown 2/33) lost to Greerton 133/3 (Mike Brown 53, D Singh 29; C Knowles 2/24)
Mount Maunganui 167 (Bevan Wansborough 49, Stefan Heuberger 31, Tim Boggiss 31) lost to Albion 168/4
Grasshoppers 255/6 (Richard Brown 71, Bob Curran 45, Ray Body 32, Chris Savage 30no, Brad Taylor 3/51) defeated Tauranga Boys 109 (Matt James 36, Alex Tod 4/22)
Points Table (Provisional) Cadets Punjab Warriors 12, Greerton 12, Grasshoppers 6, Albion 6, Wanderers 6, Bethlehem College 6, Tauranga Boys College 0, Mount Maunganui 0.
More on SunLive...