Catamarans racing in harbour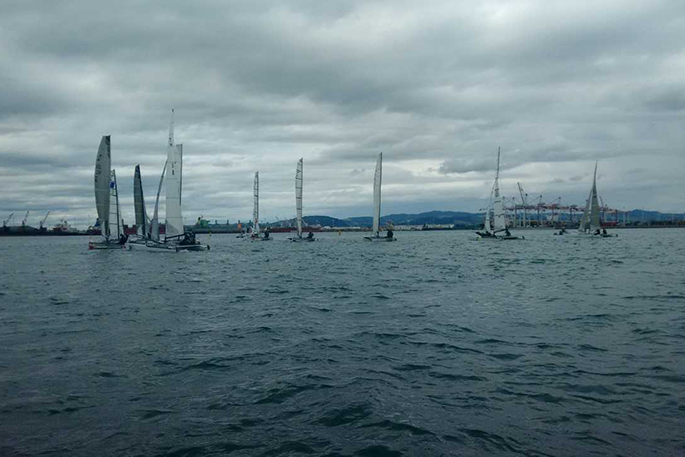 Click the image above to view slideshow
Teams from here and around the country have been racing in Tauranga harbour this weekend, as the Tauranga Yacht & Power Boat Club hosts the 2018 Tornado National Championships.
The annual regatta is open to boats of the Tornado-class, which are 20-foot, two-person catamarans.
Tauranga Yacht & Power Boat Club multihull division chairman Phil West says there has been a mixture of sailing crews this year.
"There are young guys who are 17 and 18 years old, as well as husband and wife crews, father and son crews, and some sailors in their 70s."
He says the annual event alternates between Tauranga and the Bay of Islands. This year the local club has six crews sailing, but unfortunately haven't been able to keep a lead.
"We're not doing as well as we like, but we're being very hospitable and allowing our guests to triumph."
The windward-leeward races have been taking place out on the harbour, with two to four circuits around a top and bottom mark per race, depending on wind strength, with races timed to be around 45 minutes each.
All 12 crews race at the same time, meaning it can be tight going around the marks.
"Consequently we have protests and a committee to work out the issues, although it's all in good fun most of the time," says Phil.
"The winds have been fairly gentle this weekend – the maximum we've had is 10 knots, so we're not going particularly fast at the moment. We were delayed a couple of hours yesterday because of it."
The race schedule is tight, as they have to fit around the winds and the tide. But so far they've managed to host five a day.
Scoring is fairly simple: first place gets one point, second place two, all the way up to 12 points for the last place-getter. The crew with the least amount of points at the end of the series today wins.
"If we do more than six races, you can drop one of your results, and if we do more than 10, crews can drop two results. That has quite an effect on the results, because if you only have a couple of bad races, but the rest are good, then you can surge ahead."
Current leaders are Dave and Susan Shaw from Nelson, whom Phil says are pretty much guaranteed to win.
"They're very good."
More on SunLive...