World Cup final decided at Bay Oval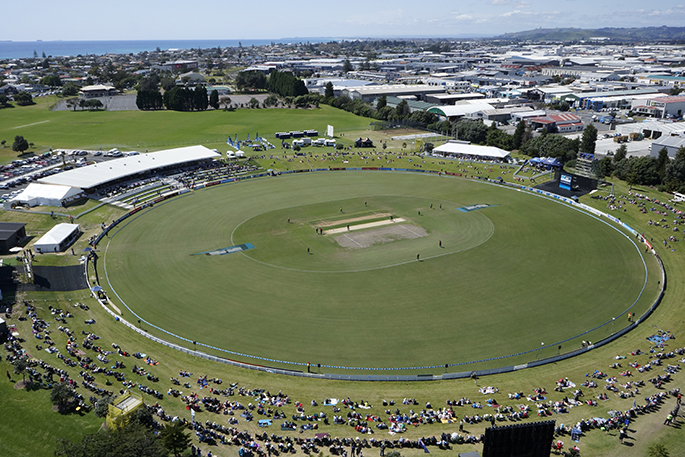 Click the image above to view slideshow
India became the first country to win four ICC Under 19 Cricket World Cups when they controlled the majority of the action in the 2018 edition of the title decider against Australia, at the Bay Oval, Mount Maunganui on Saturday.
Australia won the toss and backed themselves to post a solid target, in front of a crowd containing several thousand very vocal Indian supporters.
The Australian openers quickly fired the run rate up to around five runs an over, before their first wicket fell at the 32 run mark. Batting at four, Jonathon Merlo anchored his side's innings with 76 runs and combined with Param Uppal (34) in a solid 75 run partnership.
At five down with 183 runs on the board, the Aussies looked to be heading for a big score, however the Indian bowlers warmed to their task to grab the last five wickets for 33 runs - with Australia removed for 216 with 16 balls remaining in their innings. The Indian wickets were shared around with four bowlers taking two wickets apiece.
India made a measured start needing around four runs an over, with captain Prithvi Shaw posting a handy 29, before being dismissed with 61 runs on the board. Fellow opener Manjot Kaira then took control to post two substantial partnerships, first with Shubman Gill (31) and then an unbeaten 89 run partnership with Harvik Desai (47no), on his way to an Indian eight wicket win.
Manjit Kaira was the hero of the Indian victory, as he stroked 101 runs at just a tad over a run a ball, with eight 4's and three 6's over the boundary. The Indian opening batsman displayed a full array of shots as he controlled the Indian chase for victory.
India were the dominant force throughout the tournament, with six clinical victories on their way to the Under 19 world age-group title. They laid down the gauntlet on the second day of the tournament, defeating Australia at the Bay Oval by 100 runs. Australia fought back from their only loss to become worthy opponents in front of a huge international television audience.
ICC Under 19 Cricket World Cup Final
Australia 216 (JA Merlo 76; Param Uppal 34, J Edwards 28, NA McSweeney 23; IC Porel 2/30, AS Roy 2/32, S Singh 2/36, KL Nagarkoti 2/41) lost to India (M Kaira 101no, HM Desai 47no, S Gill 31, PP Shaw 29)
More on SunLive...