Rainbow springs welcomes first Whio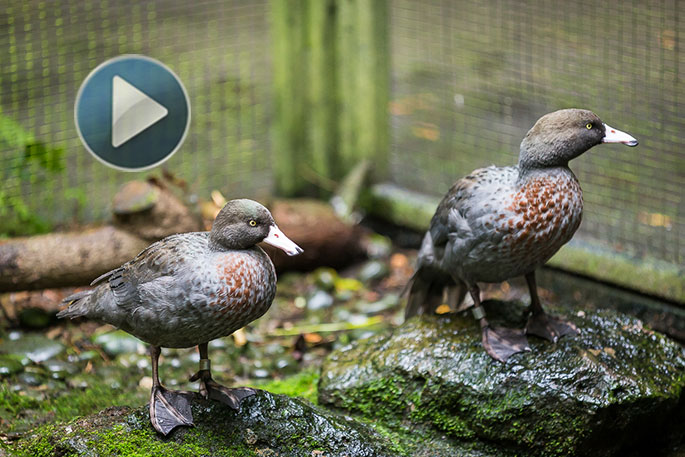 Click the image above to watch the video
Ngai Tahu Tourism owned Rainbow Springs is thrilled to welcome two very rare Whio, or blue ducks, to the park in Rotorua today.
It marks a first for Rainbow Springs who say they have never had Whio in residence.
Whio are found only in New Zealand, and are rarer than some species of kiwi. They are currently classified as endangered, with an estimated population of between 2,000-3,000 birds.
Today Rainbow Springs welcomed a breeding pair from Peacock Springs in Canterbury who were flown up by plane to Rotorua.
"We are excited to be welcoming a breeding pair of Whio to Rainbow Springs for the first time today," says Rainbow Springs business manager David Hennigan.
"Whio are very rare and at risk of becoming extinct. We saw an opportunity to get involved and help ensure this species survives, and were happy to offer them a new home."
"The Whio are a very welcome addition to Rainbow Springs, and we look forward to letting our visitors to the park catch a glimpse of this special New Zealand taonga."
Wildlife program manager Mark Paterson, says the birds will be housed in a large aviary that they will share with Kaka birds and sacred Kingfishers.
"The enclosure has a fresh water stream running through it which is very important as Whio require clean, flowing water to be healthy and happy, and they will be fed on a diet of very special formulated pellets that meet all of their dietary requirements."
"Eventually we hope that the pair will feel comfortable enough in their new home and begin to breed, and once their ducklings are strong enough we plan to release them back into the wild."
Whio are alpine ducks, usually found in clear, fast-flowing water.
They are named because of the distinctive "whi-o" whistle made by the males, which can be heard over the noise of the water.
Whio are a taonga species that Maori have a strong cultural and historical connection with. Traditionally the species could be found throughout the Ngai Tahu territory.
The Department of Conservation website states that people can assist with the recovery of Whio by reporting all sightings, including date, location and number seen. For more information visit http://www.doc.govt.nz/whio.
Mark Paterson and Andrew Glaser releasing Whio at the Rotorua park. Supplied photo.
More on SunLive...