Finding champions at Waihi Beach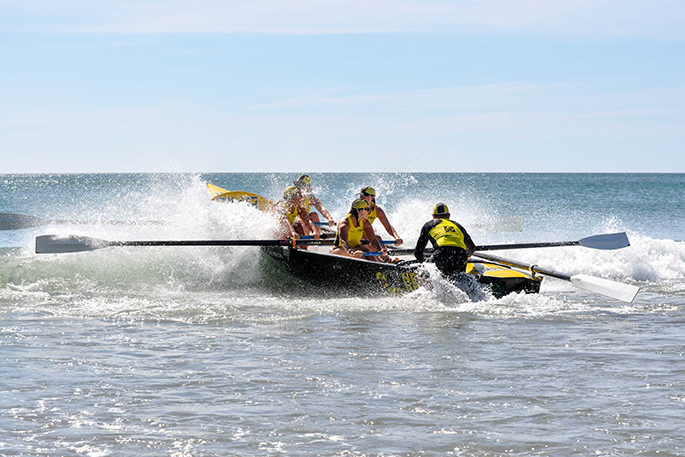 Click the image above to view slideshow
The fourth and final round of the iconic New Zealand Surf Boat Series is set to take place this weekend.
Fifty one crews entered into the event at Waihi Beach where the series champions will be crowned.
The Open Men's title is currently led by the North Beach Beavers, who have 54 points but they are only narrowly ahead of the Mairangi Bay Merkins and the Muriwai Moonshine teams, who both have 50 points heading into the final weekend.
The Under-19 title race could also be tight with only two points separating current first place holders Whangamata Motor Boaters from Sunset Hipsters in second.
While the Under-23 team of Sunset Young Guns have a comfortable 14 point margin over the Titahi Bay Putang Poachers, the title is far from sealed.
In the Open Women's title race, the Muriwai Meerkats have a six point advantage over the Red Beach Jedeyes, who in turn have an eight point lead over the Red Beach Muzzies, but with up to 20 points on offer, it could still be a close finish.
However, the race for both the Under-23 and Under-19 Women titles are closer. The Under-23 Orewa Aces/Diamonds have a slim two point advantage over the Piha Pingers, who also have the same two point margin over third place holders from Waihi.
First and second place in the Under-19 women competition is the same with Paekakariki currently leading North Beach Bullets by two points.
With all the points so close, teams who have consistently performed throughout the season could be rewarded with a series win on Saturday with dozens of points on offer for each race.
The New Zealand Surf Boat event will be followed by the New Zealand Representative Surf Boat Challenge on Sunday, as well as the "Champion of Champion's" event.
Regional representative teams, made up of four crews from the Eastern, Northern, Central and Southern regions will battle it out over a three race series of one long course, one short course and one surf boat relay.
However, Sunday also sees the ultimate challenge in surf boat racing with the Champion of Champion's event. It is considered an open event and allows all crews to test themselves against the best in the business.
SLSNZ Sport Manager Mike Lord says the weekend is shaping up to be one of the best in the series due to the number of crews competing.
"Plus, of course, most of them are aiming to secure a New Zealand series title so they'll all be pushing the limit.
"Although, the predicted weather and 1.5 metre swell could be an added challenge for the crews this weekend but the boats thrive in those conditions and they're spectacular to watch, so it should be an exciting weekend of racing for everyone."
The four teams selected to represent New Zealand at the Trans-Tasman Surf Boat Challenge in Australia later in February will also be racing this weekend and Mike says they are definitely ones to keep an eye on.
The event officially gets underway from the Waihi Beach Surf Life Saving club from 10am on Saturday, before continuing from 8am on Sunday. Spectators are welcome to attend for free and cheer on athletes from their own region.
New Zealand Surf Boat Series – Round 4: Number of teams per club
Bethells Beach SLSP, 2
East End, 1
Fitzroy SLSC, 1
Lyall Bay SLSC, 2
Mairangi Bay SLSC, 2
Muriwai Volunteer Lifeguard Service Inc, 3
New Brighton SLSC, 1
North Beach SLSC, 2
Omanu SLSC, 1
Orewa SLSC, 8
Paekakariki Surf Lifeguards, 5
Piha SLSC, 7
Red Beach, 4
Sunset Beach LS, 2
Titahi Bay SLSC, 5
Waihi Beach Lifeguard Services Inc, 2
Westshore, 1
Whangamata SLSC, 2
More on SunLive...