Sheep milking venture unveiled at Taupo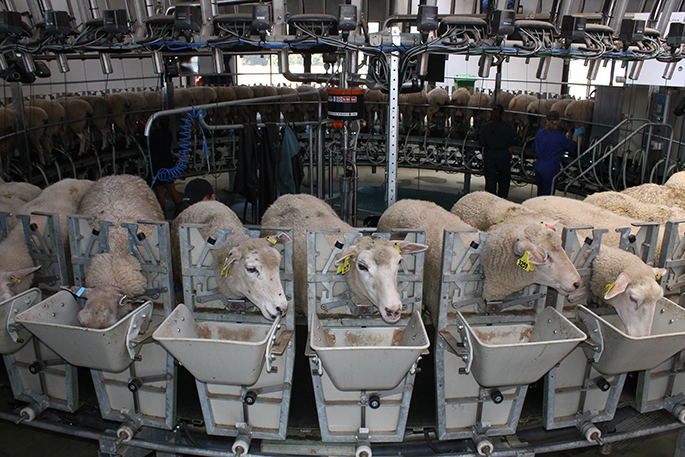 Click the image above to view slideshow
An ambitious and innovative venture which proposes an alternative future for New Zealand's dairy and sheep industries, has been officially opened near the shores of Lake Taupo.
Maui Milk Limited's high tech dairy complex, which milks 2000 ewes, was declared open by Taupo District Council Mayor David Trewavas before an audience of around 100, including representatives of local Iwi, Chinese investors, Chinese government officials, and Ministry for Primary Industries officials.
Today the property is hosting an open day for farmers interested in converting to milking sheep and becoming suppliers to Maui Milk Limited.
During Tuesday's opening, those attending were told how Peter Gatley general manager of Maui Milk and Southern Cross Dairy Sheep and geneticist Jake Chardon have secured the genes necessary to create a crossbred milking sheep with genetic diversity and hybrid vigour.
These sheep will incorporate the main northern hemisphere dairy sheep breeds (East Friesian, Awassi and Lacaune), with a Coopworth base to create a new breed, to be known as the 'Southern Cross'.
Progress towards producing the Southern Cross sheep includes mating last autumn involving more than 2000 straws of French Lacaune semen and 450 UK East Friesian embryos, with backup by Awassi/East Friesian cross rams.
The development of Waikino Station, home of the new milking complex, has been funded by the Maui Food Group Ltd, a Shanghai-based marketing company.
That company formed Maui Milk with joint venture partner Waituhi Kuratau Trust, which had pioneered sheep milking in the region in 2007.
Maui Milk has invested heavily in the concept of milking sheep in New Zealand, including in the purpose-built dairy with its 64-bale internal rotary imported from France. The plant includes in-line electronic milk meters, automatic cup removers, backing gates, and an adjustable height platform in the pit to ensure comfort and ergonomic efficiency for milkers. Milk from the farm is collected by a tanker for transport for processing at the Waikato Innovation Park.
The extensive complex adjoining the dairy and its yards, also includes a lamb rearing facility and two large barns complete with feed conveyors, capable of housing 1000 ewes each.
However, the ewes are primarily grazed outdoors on the 770-hectare property, grazing on new pasture of plantain and Lucerne.
Yesterday's opening including the opportunity to see the milking plant in operation and listen to a number of speakers, including Chairman of Maui Milk Paul McGilvary, Peter Gatley and Jake Chardon who outlined the development of the property and the programme to produce the Southern Cross Breed, and Chinese speakers who praised the innovative project and spoke of the growing preference among Chinese consumers for sheep milk and sheep milk products.
More on SunLive...