Thunderstorms possible later today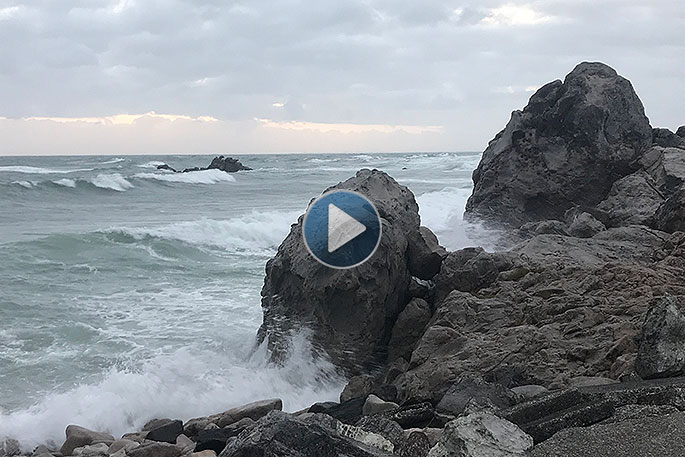 Click the image above to watch the video
In today's weather forecast we are expecting showers, turning to rain in the afternoon with downpours and possible thunderstorms.
Also strong northerlies, changing to southwesterlies overnight.
It's a one-clothing layer day today with a high of 25 and an overnight low of 19 degrees. Humidity is 78 per cent.
High tide is at 8.10am, low tide is at 2.20pm and high tide at 8.20pm. Sea temperature is a warm 23 degrees, and there's a sea swell of 1.2m. Sunset is at 8.25pm.
If you're going fishing today the best fish bite time is between 6 and 9pm.
This day in NZ history in 1842 New Zealand Company settlers arrived in Nelson. The Fifeshire arrived in Nelson with immigrants for the New Zealand Company's first settlement in the South Island.
In 1981 Trevor Chappell bowled underarm. Trans-Tasman sporting relations reached a new low at the Melbourne Cricket Ground when Australian captain Greg Chappell ordered his brother Trevor to bowl the final delivery of a 50-over cricket international against New Zealand underarm.
This day in world history in 1945 U.S. Rangers and Filipino guerrillas rescued 513 American survivors of the Bataan Death March. In 1951 three A-bomb tests were completed in the desert of Nevada.
Today is the birthday of African-American poet Langston Hughes. Born on this day in 1902, Langston, one of the earliest innovators of the then-new literary art form called jazz poetry, once said "Like a welcome summer rain, humour may suddenly cleanse and cool the earth, the air and you."
To check out what's on today please go to our What's on page. Have a great day!
More on SunLive...